Measuring Impact: Just How Does Film Drive Change?
Beadie Finzi Beadie Finzi, a filmmaker and producer in the United Kingdom, is a co-founder and director of BRITDOC, which since 2005 has supported documentary filmmaking around the world. Finzi's body of directing and producing work includes "Unknown White Male," "Only When I Dance," "The Outsiders," "Gifted," "The Hunger Season" and "All I Am." For BRITDOC, she continues to executive produce such feature films as "Hell and Back Again," "Calvet," "Ping Pong" and "Erasing David."
There's a saying among documentary filmmakers that you don't find the story, the story finds you. You see a photograph, hear something on the radio, meet an amazing character. Whatever the inspiration, it doesn't let go until you've sold your car, emptied your savings account and committed the next five years to chasing something around with a camera.
Great stories move documentary filmmakers into action. Great film moves viewers into action, or so filmmakers hope. These days, so do the organizations that put money behind creative projects. Increasingly, they want evidence of return on their investment.
But who has the time, budget and tools to keep track of what happens once a film is shown? And what, really, are we measuring? Does every effort have to have quantifiable outcomes? Must we give in to metrics, or is art enough?
These questions fuel heated debate among funders and filmmakers. The debate, in turn, is giving rise to tools for finding the answers. It's an anxious moment for documentary film. But to Beadie Finzi, a director of BRITDOC and one of the metrics innovators, it is also an empowering one.
"It's easy to paint a nightmarish, hypothetical universe in which funders will only fund projects that can be easily evaluated, or only certain kinds of films are commissioned," Finzi says. "But I kind of reject that. I say it's up to us to create the kind of future we want; it's up to us to educate the funders; it's up to us to come up with smarter paradigms and mechanisms."
BRITDOC Is Born
Twenty years ago, in a near-empty theater in central London, Finzi's life was about to change. The featured film was "Hoop Dreams," the tale of two high school basketball players aspiring to the pros. For three hours Finzi was transfixed; when the credits rolled, the handful of people around her burst into applause.
She was working then as a researcher for a broadcast production company, "developing TV projects cheerfully but not feeling super engaged," she says. "Then suddenly here was a different proposition. A patience and intimacy with the subject. A dedication to the story, to the narrative."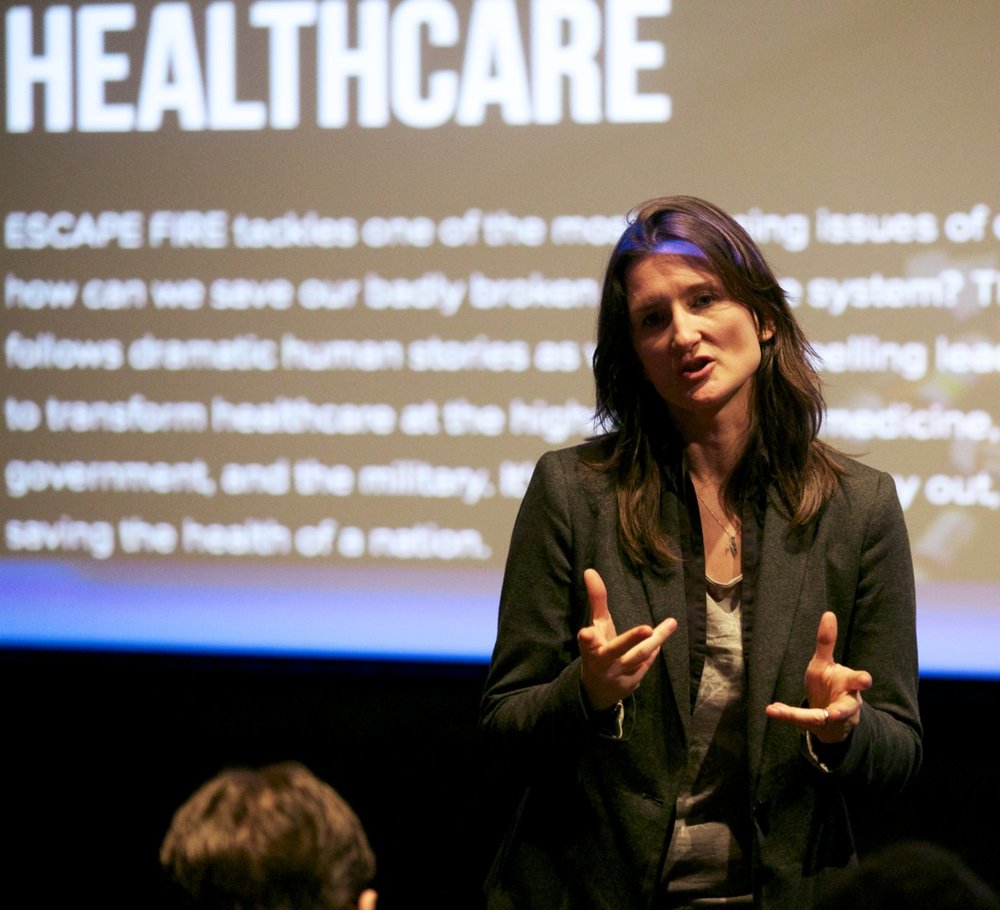 Around the same time, she purchased a Hi8 camera and stumbled onto her first independent film project: a rags-to-riches story about a young man rising from the ghetto. "I filmed evenings after work, weekends and vacations, followed him around the world—for five years," she says. "And there totally was no film at the end of it. It was undercooked and didn't deliver emotionally. I wish I'd had some mentors in the U.K. at the time to help me figure it out."
Often overlooked is the simple question, just what are you trying to change?
Finzi watched wistfully as institutions like Sundance and the Ford Foundation focused new energy into documentary films in the United States. Nothing like that existed in Europe. Compelled to fill the vacuum, she joined forces with three colleagues—Jess Search, Maxyne Franklin and Katie Bradford—and in 2005, BRITDOC was born. The mission: to help independent filmmakers connect meaningful films to meaningful audiences, and make a real difference in the world.
BRITDOC believes creation of a great work is transformational for the artists and their collaborators. And then there is the audience. What happens between a film and an audience member is a private affair, often mysterious and hidden. "Yet it is this effect, the potential for a film to be transformational for the inner life of the audience, that is the magic that makes us determined to help more filmmakers find their voice and their audience," says Finzi.
Prepare for your funding meetings with Beadie Finzi's Impact Distribution Checklist below.
First in the U.K., then globally, BRITDOC shattered the distribution models that too often kept independent films from reaching the viewers most inspired to take action. BRITDOC now supports projects in more than 30 countries, including Laura Poitras' Oscar-winning "CITIZENFOUR" and nominees "The Square" and "Virunga" (the latter released on Netflix last fall).
Paving the Way
Along the way, BRITDOC began to develop accessible tools for measuring impact, even as debate over metrics reached a fever pitch.
Finzi and her colleagues aren't alone in this effort. Their Impact Field Guide is accompanied by a range of tools, from free and simple to costly and complicated. Among them are Sparkwise, StoryPilot, Film Sprout, the Media Impact Project and Picture Motion.
Also, a handful of hallmark foundations both fund films and guide successful distribution and impact measurement strategies. In addition to BRITDOC, these include the Sundance Institute, Ford Foundation's JustFilms, Chicken & Egg Pictures, The Fledgling Fund and the Bertha Foundation.
BRITDOC's Impact Field Guide and Toolkit remains one of the most comprehensive free online resources available. Through a series of questions, worksheets, expert quotes and case studies, the guide helps filmmakers understand what goes into measuring a film's impact—starting with the definition of success itself.
Redefining Success
"This has been the decade in which the power of film to change the world has become impossible to ignore. Through the hard work and commitment of thousands of dedicated individuals, we've seen it all: major artistic achievement, radical experimentation and innovation, and serious societal change."—Impact Field Guide
Consider the pathway that has for so long defined a "successful" film: You make a beautiful, poignant documentary. It premieres at an A-list festival like Sundance, and gets picked up by a major distributor. It debuts in theaters, on television, on Netflix. Millions of people see it. Millions are moved by it. You might, like Laura Poitras, even score an Oscar.
"It's a great model, and if you can harness it, fantastic," Finzi says. "But there are a very, very small number of movies that actually follow that trajectory. So for goodness sake, don't feel like a failure when the traditional guys can't see the magic in your movie. ... We now have more control to take things into our own hands, with all of the platforms and partnerships we can make—it just requires energy and tenacity and focus."
We need to keep our nerve. Because it's only bad evaluation that analyzes creativity to death … tries to break everything down into numbers … and sucks up time and money that could be better spent elsewhere.
The Impact Field Guide's "Distributing" section challenges filmmakers to think about what success looks like for their film. "Going viral," for example, might not be the most important achievement. A more interesting conversation, Finzi says, is whom you're reaching, and how.
Consider "Ping Pong," a BRITDOC-supported film about the octogenarian table-tennis championship (or as Finzi says, "a love poem to old age"). It's a small film. It didn't break out into the major film festivals. It wasn't picked up by a major distributor. But BRITDOC knew it had soul and believed there was an audience. It just needed some imagination. So they did test screenings in elder-care homes, where it was a massive hit. Two years later, the film has played in more than 2,000 such homes in the U.K., connecting facilities with ping pong trainers who help improve elders' physical activities. It's also screened in schools to teach intergenerational understanding.
"The Invisible War," a film about sexual violence in the U.S. military, offers an example of the former. It premiered at Sundance before enjoying a relatively small theatrical distribution. But that millions didn't see it didn't matter, Finzi says. Within three weeks of Sundance, it was screening on Capitol Hill before the secretary of defense and other high-level officials. By breaking through to those core viewers, the film spurred top-down changes in a historically unyielding industry. The military fired people and changed training techniques. "It's one of the most profoundly successful films of the last five years," Finzi says.
Often overlooked is the simple question, just what are you trying to change? The Impact Guide identifies four categories: changing minds, changing behaviors, building communities and changing structures. Each can require different distribution plans.
"Bag It," a surprisingly charming and upbeat movie about plastic pollution, built communities. Through strategic screenings, the film became a key organizing tool across America. Seattle, Los Angeles and Portland, OR, are among cities that used it to pass legislation banning plastic bags.
"The Age of Stupid" (featuring a man alone in the devastated world of 2055, questioning why we didn't stop climate change when we could) went for a different kind of change. It paired special screenings with creation of the 10:10 campaign, launched in September 2009 to cut 10 percent of the U.K.'s emissions in a year. The results: a 13.8 percent emissions cut by the government; 13 percent by a hospital; 14 percent by the Tottenham Hotspur Football Club, and, among readers surveyed by The Guardian, 53 percent participation by individuals to cut personal emissions. "To date, as a direct result of the 10:10 campaign, almost 1 million tons of C02 emissions have been saved," reads BRITDOC's case study. "This is the equivalent to taking around 400,000 cars off the road."
Change doesn't have to be epic. It may be as straightforward as capitalizing on the mood when the theater lights go up. "When a film ends and audience emotions are tangible, the filmmaking team, with the support of its partners, has a real opportunity to move the audience from passive to active," The Fledgling Fund suggests in a recent Impact Paper. "That small but critical window of opportunity—high emotions, a captive audience, a pressing social issue and collaborative partners—are the right ingredients for inspiring audiences to begin or strengthen their engagement with the social issue."
No matter how intricate the impact campaign, how fancy the metrics, how brilliant the algorithms or talented the campaign team, a great film always comes first.
Pass around a petition to sign. Share the URL to your website. Start a letter-writing campaign to members of Congress. Offer a phone number where people can text donations. There are dozens of ways to keep the momentum going. Don't leave a motivated audience with no place to direct its energy.
Evaluation
"Fundamentally, great evaluation is great because it makes more change happen faster." —Impact Field Guide
"'Evaluation' is one of those buzz kill words," reads the guide. "It sounds pedantic, reductive, time consuming, difficult, dangerous. As filmmakers and storytellers, many of us have a deep-rooted suspicion that if applied to our creative work, it just might kill it—or at least miss the point. …
"We need to keep our nerve. Because it's only bad evaluation that analyzes creativity to death … tries to break everything down into numbers … and sucks up time and money that could be better spent elsewhere."
The solution, BRITDOC says, is to take control. Create a plan based on the goals of your campaign, and share it with funders and partners along the way. Think of evaluation as a process, not a final product—something you put a little time into every week. (The Impact Guide's "Evaluating" section includes some great examples of interesting things to measure, and how.) Over time, you'll begin to create a rich picture of your film's effect in the world.
Establishing the Team and Budget
"The passion of film teams and their desire to create impact usually far outweigh the resources and time available to them to do the job. … What you need to do is decide how much you're going to do—and how much you want to leave to everyone else."—Impact Field Guide
In a survey of filmmakers whose work appeared at the 2014 True/False Film Festival in Columbia, MO, more than 70 percent believed their film could inspire social change. Yet a whopping 66 percent resisted the use of evaluation metrics. More than half indicated they had no plans for outreach to increase the social impact of their films; they either didn't have the time or budget, or simply didn't know how.
This is why the Impact Field Guide encourages filmmakers to think beyond the core film crew. Just as film producers manage pre-production and interviews and edits, impact producers oversee the execution of a campaign and evaluate change. In projects with smaller budgets, the director and producer might share this role. Those with more resources might hire an impact producer or even an entire team to figure out the smartest strategy and funding opportunities.
Regardless of who's at the helm, an impact campaign can be expensive. That's daunting to independent filmmakers. "Fortunately, it's not all doom and gloom," reads BRITDOC's guide. "As the field continues to prove itself with ever more successful campaigns, we are seeing an increase in the funds allocated towards this type of work."
Costs included in Impact Field Guide case studies span $53,000 to $2.6 million. "That's not to say that those with comparatively tiny budgets didn't also do an amazing job," the guide reads. "You can still do a lot with a little bit of money and a cracking strategy, so don't be put off."
Shout It from the Mountaintops
"If your film is out in the world, but nobody hears about or sees it, your chances of making a real social impact disappear," reads The Fledgling Fund's Impact Paper. "Even more so than distribution, outreach and strategic communications must begin well before the film's completion. Under the old models, tactics to reach audiences were timed right before or upon the film's release. Now, we know it needs to happen long before that."
The paper urges filmmakers to consider how their film fits into a social movement, and how to connect the two. A basic film website, social networks with a decent following, and media coverage from print magazines to blog posts are critical. So is partnering with relevant nonprofits and other community organizations to host special screenings.
But no matter how intricate the impact campaign, how fancy the metrics, how brilliant the algorithms or talented the campaign team, a great film always comes first.
Says Finzi: "Nurture the artist, nurture the film, help create the strongest, most beautiful, imaginative, compelling film that you can—and then let's do some really smart thinking about how to connect that film to audiences."
Impact Distribution Checklist
When you pitch a project to funders, make sure they know you're thinking ahead to the film's impact. Name its key themes. Set out change goals. Define your audience and lay out your strategy for reaching them.
Every film will be different, but here are some questions each filmmaker should consider:
How are you going to build community through live screenings or events?
How will you reach key influencers at the governmental, judicial or corporate level?
Are you going to create educator kits for schools and teachers?
What is your dream list of film festivals and campus tours—nationally and internationally—and how can this augment an impact campaign?
Have you considered creating a distribution partnership with a relevant NGO or brand?
Would it be appropriate to recruit a celebrity or musician to the cause?
How are you going to create social media buzz with a trailer and other relevant content?
What is the potential to develop active partnerships with advocacy groups?
Amy Marquis is a writer and filmmaker in Boulder, CO. She is co-director of the film series "National Park Experience."