EbolaInLiberia.org: A Data Solution to a 'Do-or-Die Situation'
Thomas Karyah Thomas Karyah is a web developer and graphic designer in the greater Monrovia, Liberia, area. He studied economics at the University of Liberia but lives on his understanding of technology. Karyah has worked for Liberian newspapers and is currently a contractor for both his nation's ministry of information and the United Nations mission there.
Ken Harper Ken Harper is an award-winning designer, professor, photojournalist and media educator. He has worked as a multimedia designer and producer for The Rocky Mountain News, MSNBC.com, New York Life, Bausch & Lomb and various nonprofit organizations. Harper is currently an associate professor and the first director of the Newhouse Center for Global Engagement at the S.I. Newhouse School of Public Communications at Syracuse University.
Editor's note: We were shocked and saddened to learn that Michel du Cille, who is discussed in this story, died of an apparent heart attack the day we published. He was on assignment in Liberia for The Washington Post.
When Ebola began ravaging Liberia last summer, felling victims by the hundreds, Thomas Karyah felt as if his "whole world was crashing." Close friends died. Others were quarantined. Fear spread throughout the greater Monrovia area where he lives.
He pondered what he could do. And in August, Karyah—a 32-year-old contractor for Liberia's ministry of information with a self-described "abnormal passion for technology"—reached out on Facebook to an American friend for help in making the epidemic's details accessible to the public.
"I can remember feeling this is a do-or-die situation," recalled Karyah, who also works as a web and graphics contractor for the United Nations mission in his country. "I am not a physician, I have no medical knowledge; I don't have any of the skills that those who are on the front lines are using. … I said the only thing I can do is work on a system that can provide information, so people can at least monitor the situation."
The result was the website EbolaInLiberia.org, which launched in September and represents one of the earliest attempts to widely disseminate data about the outbreak. More than a dozen web-savvy journalists and computer programming experts worked several weeks without pay, sometimes without sleep, to get it running—just so they, like Karyah, could make a tiny difference against one of the globe's biggest public health worries.
The website, compiled from Liberian government information, displays a running total of the number of cases and deaths from Ebola in the West African nation overall as well as among health care workers specifically. It also features a map showing the geographic distribution of all cases; a news feed displaying the latest articles from Google News, The New York Times and The Guardian; and a gallery of photos from Flickr for users who want to augment the words and statistics with pictures.
Between September and mid-November, EbolaInLiberia.org had more than 27,000 page views, according to Google Analytics. Most traffic came from the United States, but the site's developers say they've had a small but influential Liberian audience: Material from the site was used to brief the country's president, Ellen Johnson Sirleaf.
Still, the Liberian government's assistance in the endeavor has been inconsistent at best. Officials—who have become entangled in repeated disagreements with health workers and donors about the Ebola response—were slow to cooperate, a factor that delayed the site's launch by two weeks. Since then, the statistics provided have been spotty—no new data came between mid-October and at least early December, and PDF maps occasionally have had entire regions blacked out.
"I'm not satisfied in that we're not able to establish a pipeline of updating data," said Brian Dawson, a designer at IDEO who participated in the effort from San Francisco. "A lot of the [site's] use is mitigated when it's not continually updated."
Its developers, however, refuse to give up.
They see EbolaInLiberia.org as something that can eventually shed its volunteer status as it acquires funding. They want to add new features and reach into the neighboring African nations also battling the virus. Eventually, they hope, the site can make a critical difference against vexing odds.
We live in a society where we want Twitter-sized speedy solutions. But this is a society that has been utterly destroyed by civil war and dictatorships and then has run into this. The contrasting ability to move forward is really extreme.
"We'd like to be able to have someone full-time working on it professionally … and turn it into an umbrella site that can offer regional context and roll it out to other countries," said Ken Harper, the Syracuse University professor to whom Karyah first turned for help. "Everything that we've done so far we've done at night, for free, after our kids go to bed."
For now, Harper regards the site as an example of "small-small," a popular Liberian expression that roughly translates as "I'm making what little progress I can under the circumstances." Too often, he said, incremental steps can be underappreciated.
"We live in a society where we want Twitter-sized speedy solutions," Harper said. "But this is a society that has been utterly destroyed by civil war and dictatorships and then has run into this. The contrasting ability to move forward is really extreme." Abandoning the website in the face of obstructions, he said, would be acknowledging defeat.
When he needs perspective, Harper thinks back to a conversation with John Heine, the Liberian director for former British Prime Minister Tony Blair's Africa Governance Initiative, which has been a partner on the website. Harper wanted information; Heine had other concerns. "He said, 'I'm sorry, I'm dealing with the dead-body-pickup problem.'" Harper recalled. "So I said, 'OK, that trumps the data for sure.'''
Karyah, speaking by telephone from Liberia, said he's doing all he can to provide what the website needs as he tries to remain healthy. "Right now I'm trying to strike a balance between staying alive and being useful—it's a hard thing to do," he said. "I try to meet a lot of people. Our country is one where you don't get information if you stop moving around."
His efforts draw praise from Harper: "It's been really tough for him. He's tired. He lives a very secluded life to insulate himself from Ebola. He's putting everything he possibly can into it."
Harper—who leads the Newhouse Center for Global Engagement at Syracuse's S.I. Newhouse School of Public Communications—has a track record in Liberia. He began traveling there several years ago at the behest of a photojournalist friend who invited him to do media training. After a few trips, though, he grew impatient with the limits of those workshops: "You can put out a spreadsheet saying you trained 80 people, but … they go home and their daughter still has malaria and they get paid $80 a month, which translates into, they have to take bribes."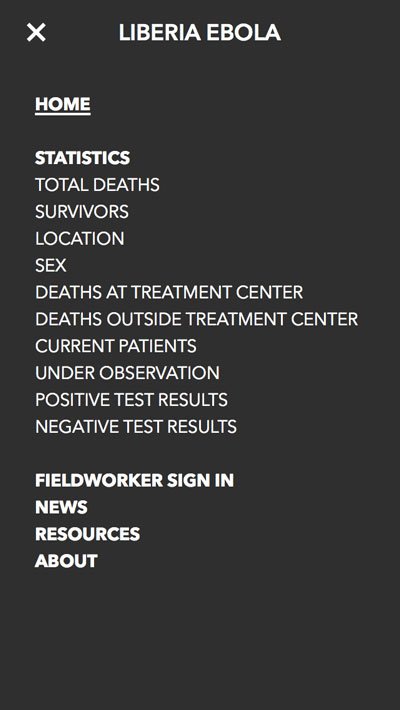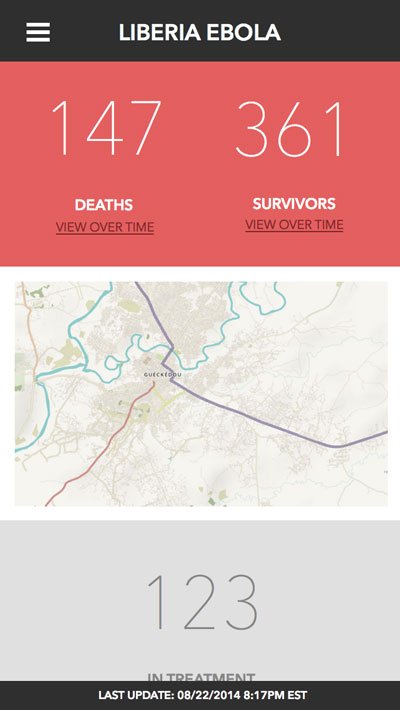 He formed Together in Liberia, which offers more personalized training, along with equipment donations, to help Liberians share stories of what it was like to grow up in a country torn apart by civil war and dictatorship long before Ebola struck. One of his 2011 trainees was Karyah.
"He was very, very smart—the smartest guy I met there, honestly," Harper recalled. "He didn't have an attitude; he was excited, happy. People who grow up in war … that might do something to you. That's going to dramatically affect your energy level. But he, for various reasons, has been able to keep it solid on a good career path."
Karyah said he "got interested in technology as a young person, when you open your eyes to opportunities and find new ventures." He was first exposed to computers while working at a newspaper after high school in Monrovia. "I wanted to understand them and have an idea why they were like that. ... I spent hours and hours on them at night."
The technology offered escape from his country's turmoil. "When you are sitting there for hours, it's impossible for you to even think about what happened the day before. You just look at the screen. You escape from your events, your troubles, a lot of things."
He entered the University of Liberia, where he considered majoring in biology and chemistry. But the campus for those was "a little distant" from the capital city, he said, so he sought "to do something else"—economics. And while he hasn't worked in that area in the subsequent decade, his Google+ profile shows his enthusiasm for his career diversion:
I'm Thomas G. Karyah, a lover of technology, student of Economics and a fan of journalism and media relations. … I hold a Bachelor of Science degree in Economics from the University of Liberia as well as numerous certificates and diplomas in journalism, political reporting, general computing, web design & development, IT project management, and mobile development. I've worked with several local newspapers and have done contracts with local NGOs and Civil Society Organizations.
Embedded in that bio is an international network of professionals with skills, passion and commitment. It would be the wellspring for EbolaInLiberia.org.
After Karyah contacted Harper via Facebook, the two talked by phone, and Karyah proposed a partnership with Syracuse. Harper recalled how "even in tone" his former student sounded, something he attributed to Karyah's ability to weather his country's many hardships.
"His emotional reaction to dramatic situations lends itself to still being functional," Harper said.
Harper reached out to a friend—Steven King, a former Washington Post editor now teaching multimedia courses at the University of North Carolina School of Journalism and Mass Communication in Chapel Hill. Harper described "an all-hands-on-deck emergency," and King set up a server for the new website within a day.
King alerted several former students and friends to the project. All of them jumped at the opportunity to take part, he said. "We actually had more people than we were able to use at the beginning."
Our purpose was to help meet an information need about the epidemic, enabling users to share the data in their own networks means we can reach more people.
A team of about a dozen people quickly formed. They labored for two weeks pulling together information, writing code and assembling other details as part of what King called "probably the fastest project I've ever worked on." On several occasions, he "worked all night, then taught class without going to bed."
Among the participants was Alison Blaine, a master's student at UNC's School of Information and Library Science and a research assistant in the Davis Library's Research Hub. At the start, Blaine recalled, few people knew just how fast Ebola was spreading. Team members wanted to convey a visual understanding of its speed that could prove useful to government officials and health workers.
"What pleases me most is how shareable the content is," Blaine said. "Anyone who visits the site can share the visualizations and download the data. Since our purpose was to help meet an information need about the epidemic, enabling users to share the data in their own networks means we can reach more people."
From Liberia, Karyah followed the website's development with both gratitude and surprise.
It isn't what he first envisioned. "I was thinking of something different, something different than what it is now. I was thinking of a platform that would be at all times providing live updates," he said. "We had to figure out what to do with what we had. But it's just as useful as the one that I was thinking about."
"The strange thing is," he said with a laugh, "they did it all for free. What if we had a budget and were well-funded; what could we do?"
The Together in Liberia Program

One of his chief concerns is that the number of Ebola cases may surge in January as complacency sets in. "So, having the information now to have people not slip into that will be very critical," he said.
Meanwhile, Harper has faced Ebola-related challenges separate from the website's. In October, the Newhouse School became the center of a national controversy when its dean, Lorraine Branham, disinvited three-time Pulitzer Prize-winning photographer Michel du Cille from appearing at a journalism conference there. Du Cille recently had spent two weeks in West Africa, though he showed no Ebola symptoms during the subsequent 21-day monitoring period advised by the Centers for Disease Control.
One student reportedly expressed concern about the visit to Branham, who told News Photographer magazine that her "responsibility is to protect the students." But du Cille angrily attacked the school's decision, drawing sympathetic coverage from news outlets. One of them was The Washington Post's website, which carried the sarcastic headline "Syracuse University Bravely Saves Students from Exposure to Journalism."
Harper considers the controversy "super unfortunate," saying he lobbied to bring du Cille. To him, coverage should have reflected his school's deep commitment to Liberia.
"We're not just some ivory-tower institution being reactionary," he said. "We have friends in Liberia. … We have spent so much money and human capital toward cultural and professional exchanges—we know folks who are suffering, and we work with people who are suffering. The fact that that was being ignored makes me kind of mad."
For now, Harper and others involved are pursuing grants to make expansion of EbolaInLiberia.org a reality. And he hopes that despite its imperfections, the website can touch a broader audience.
"I don't have any illusions on its effects," he acknowledged. "But I think it's a good first step, and [has] offered some window into what the reality is for a good group of people."
Chuck McCutcheon is a freelance journalist in Washington, DC.