How The New York Times is looking at climate change through a new lens
Sophia Fox-Sowell Sophia is is currently getting her Master's Degree in Media Innovation at Northeastern University with a concentration in climate change and political discourse.
"Unlike traffic jams or crime, climate change isn't something most people easily feel or see." That's how The New York Times recently prefaced an article about Mexico City's impending water crisis, which, exacerbated by a warming climate, threatens to leave a major Latin American city in social and economic turmoil.
Using animations, maps, photographs and in-depth reporting, "Mexico City, Parched and Sinking, Faces a Water Crisis," also published in Spanish, tells the story of a major world capital at its breaking point while underscoring a very real manifestation of climate change. The story is part of a new series, "Changing Climate, Changing Cities," which explores how cities around the world are coping with the tenacious and politically-charged environmental phenomenon.
The New York Times has long been a leader in climate change coverage. But now, using the latest storytelling technologies like 360 photography and interactive data visualizations, the paper is hoping to publish compelling climate stories that will resonate with readers like never before.
Climate change tends to conjure up images of polar bears, melting glaciers and rising seas. But that's not the full story, says Hannah Fairfield, the Times' new climate editor. Since cities, both coastal and inland, account for the majority of the world's population, they will play a crucial role in dictating the future of climate change policy, she says. Why not, then, shed some light on these the urban ramifications of climate change?
"As the world becomes more urbanized, the vast number of people being affected live in cities that are vulnerable to climate change that's happening now," Fairfield told me.
After working on The New York Times' graphics desk for 15 years, Fairfield took on her new role as climate editor last January. Within a few months, she established a team of reporters and editors in D.C. and New York. And Fairfield is quick to note that the climate desk is its own desk, given as much importance as the national or sports desk.
Fairfield aims to direct the coverage with an emphasis on visual journalism. After all, she was the visual editor for several other projects before the new climate desk was formed including "Greenland Is Melting Away" and "Living in China's Expanding Deserts." With her background in visual storytelling, she hopes to approach climate change coverage with fresh eyes.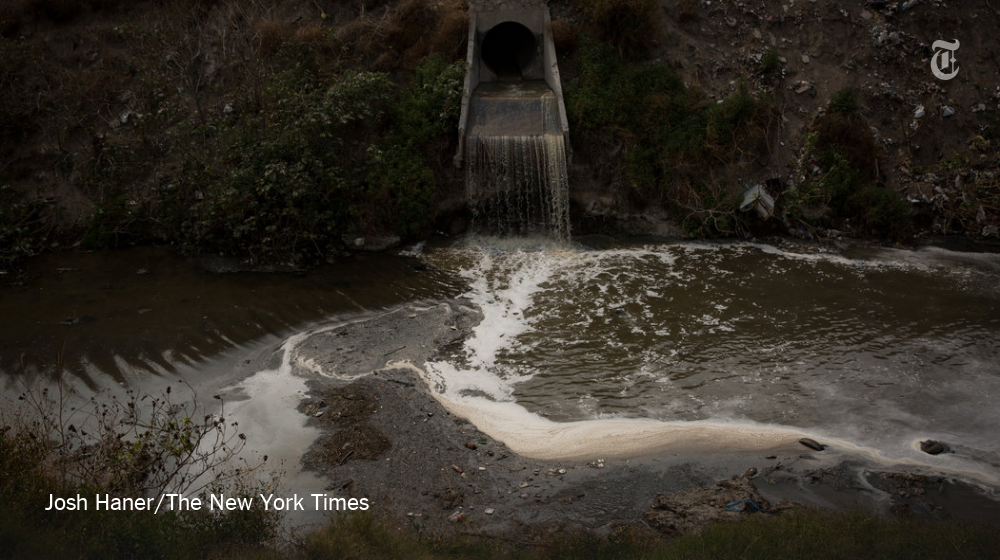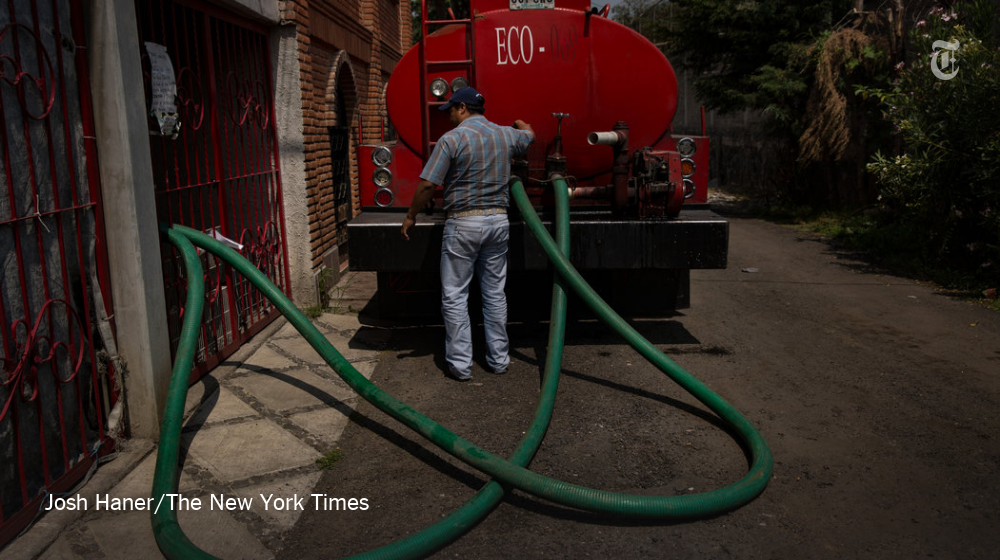 Fairfield also expects a more symbiotic collaboration from her team. In that respect, Michael Kimmelman, an architecture critic, and photographer Josh Haner acted as the "yin and yang" of the Mexico article, relying on one another for creative input. The result weaves photography, maps and writing to tell an important and pressing story of a parched capital.
"It's one of these collaborations that I'm excited about because you get a lot of people who are creative and talented in their own fields – architecture, photography, graphics –coming together to tell this new narrative in interesting and innovative ways," Fairfield says. "It's really fun."
Kimmelman and Haner traveled to Mexico City together, spending days taking tours of the city and developing their respective vision for the story. A staggered travel arrangement gave Kimmelman time to formulate an understanding of what was happening in the urban center. With that foundation, he was able to provide Haner a strong visual base to help the photographer home in on the story.
"That's something editors want," Haner said, "for their team [to] get to know each together and feel out the story together."
That's something editors want, for their team to get to know each together and feel out the story together.
Haner, who has worked on many of Fairfield's projects, as well as stories like "Carbon's Casualties," uses photography to humanize the effects of climate change. But finding concrete examples in Mexico City proved to be difficult for the Pulitzer prizewinner.
"When this project came to me, it was very challenging," says Haner. "Looking at something grand like metropolises and trying to find visual examples of how these cities will change in the future, micro changes that have already happened to be bell weather for things to come, is the most challenging [thing] to photograph in the moment."
Aside from new challenges in capturing these images, Josh reflects on how the climate team is shifting their strategy to adequately grasp both components of "Changing Climate, Changing Cities": the migration to cities and cities adapting to have more people—both of which accelerate the underlying issues of climate change on cities themselves.
"In the past, a story like this may have been told disjointedly," Haner explains. "We'd have a slideshow, a linear video, behind the scenes, maybe a graphic that would take you away from the article. We'd make it a [conscious] choice to get back to the story. We've been experimenting with curated experience. In 'Changing Climate, Changing Cities,' we don't give you a choice of jumping away from the story. All of it is integral to the story."
In 'Changing Climate, Changing Cities,' we don't give you a choice of jumping away from the story. All of it is integral to the story.
Haner's visuals have accompanied climate related stories at the New York Times for the past 12 years. But only within the past year, have the stories changed their tune from examining why climate change is happening to how it is impacting regions.
"It's no longer a question of if it's happening. People may argue why [it's happening], but [they] can't argue how it's impacting people—harder identifying where it's not having an impact."
This shift from causation to consequence is subtle, but significant. The Times is making a statement – climate change is happening. Michael Kimmelman, the paper's architecture critic, is more than happy to be an advocate for climate change awareness. For him, the two are inseparable.
In fact, "Changing Climate, Changing Cities" was originally Kimmelman's idea.
"I spend my time writing about cities and urban development," he says. "I, of course, am thinking a lot about the impact of climate change on cities.I though that one lens you could look at climate change with was through cities—and how they deal or don't deal with climate challenges."
Though the full breadth of coverage has yet to be determined, all three contributors say they will focus on both coastal and inland cities.
"In some ways the most insidious affects are in cities that are not on the coast," says Kimmelman. "The effects of flooding, drought and heat can have a serious effect on human population.".
While Haner has used drones in previous climate reporting to fly high above the landscape and capture panoramic views of the environment, for many articles the climate team will let the location drive the visual elements chosen to tell the story. "Should there be an opportunity to use virtual reality and 360 , we'll have that in the bag of equipment. [But for now,] we're experimenting with moving imagery," Haner says.
The next article in the "Changing Climate, Changing Cities" series, coming in early April, will be on China.
Note: This story was updated to correct Hannah Fairfield's start date as climate editor.