Photographer Kadir van Lohuizen: When Paradise Becomes Hell
Kadir van Lohuizen Award-winning photojournalist Kadir van Lohuizen is best known for his long-term projects on "the seven rivers of the world," the diamond industry and migration in the Americas. He has photographed many conflicts in Africa, and from 1990 to 1994 he covered the transition in South Africa from apartheid to democracy. In 2000 and 2002 he was a jury member of the World Press Photo contest, and he is currently on the supervisory board of the World Press Photo foundation. Kadir is a frequent lecturer and photography teacher. He is a member and co-founder of NOOR picture agency and foundation, and is based in Amsterdam.
If you were to hop on a plane this afternoon, leaving Los Angeles for Sydney, Australia, you'd fly more or less over Kiribati (pronounced Kiribas), a country in the central Pacific Ocean, population about 100,000.
If you were to take the same trip in 2074, Kiribati may not be there to catch your plane's shadow. Or at least its population may not be.
Kiribati is part of a group of low-lying, small island nations that will be most affected by rising sea levels. Their size and high dependence on the coast for food, livelihood and protection contribute to their vulnerability. According to President Anote Tong, Kiribati will be uninhabitable in 30 to 60 years due to damage to soil and water supply from the encroaching sea.
Since 2012, photojournalist Kadir van Lohuizen has been documenting rising sea levels around the world. No stranger to difficult assignments, for nearly three decades he has covered conflicts in Africa and elsewhere, the diamond industry, "the seven rivers of the world," and migration in the Americas.
After an eye-opening trip to Bangladesh, where he met families being torn apart by climate migration, Kadir began a self-assigned trip that would take him to eight countries, including Kiribati, in a year and a half. During his travels he learned the world has some tough questions to answer—and soon. Among them: Where does a country of 100,000 go when its land disappears? Whose responsibility is it to migrate those affected by rising seas? Will the world's producers take responsibility for development's side effects?
In an interview with Ochre, Kadir discussed what changed his thinking on climate issues, his pessimism about the future, the sacrifices today's photojournalists must make, and when to take calculated risks for story.
What follows has been edited for length and clarity.
On Sept. 23 the United Nations is holding a Climate Summit for world leaders. Climate Week NYC is running several events for governments, businesses, and individuals to coincide with the summit Sept. 22-28. The People's Climate March, including more than 1,000 concerned groups, will take place in New York City on Sept. 21.
Ochre: Why are you covering rising sea levels?
KL: The whole idea came about when an NGO asked me in 2011-12 to go to Bangladesh. I realized I was under the assumption that, yes, the climate is changing, and therefore the sea levels will rise, but this is not going to happen in our lifetime—which I think is an assumption by many people. In Bangladesh, I realized they were actually already starting to evacuate people because of this. I started to understand that there was a real urgency and that there was a lack of awareness … that in some regions of the world it is happening right now.
For me it was really investigative journalism because I assumed you might live on an island or you might live in a river delta and then slowly the water comes up and then you have to evacuate or relocate. But what I didn't realize was that the problem starts much earlier, because when the sea water intrudes, it means that the land becomes unarable and the water becomes undrinkable. That's the urgency for many regions in the world, they have to move because they cannot grow crops anymore and there is no safe drinking water.

Ochre: What is the scope of the project?
KL: I went to Greenland, Bangladesh, Kiribati, Fiji, Papua New Guinea, Panama, the U.S. and the U.K. Eight countries.
I started on my own. … Then it happened that The New York Times adopted a large part of the project. So, part of the project was in collaboration with The New York Times, which was great because for me it was important that it would get some coverage in the U.S.
I really wanted to include the U.S. as well, otherwise people feel it is very far away and it doesn't affect them. Miami is probably the most disastrous … because as far as they know now and as far as it's been researched … Miami is unsavable.
Ochre: Kiribati is particularly interesting because of the nation's remoteness. Tell us about your work there.
KL: Kiribati, to be honest, was scary. I have been in several places where, from a distance, it looks like an absolute postcard paradise and the moment you come closer, it kind of turns into hell. Kiribati is one of those examples because of the problems, as I described earlier, about drinking water and soil. Half the population is crowded on one island now, which makes it only more serious because there is a lack of food and safe drinking water. And what makes it scarier is that it's so far away from everything and it's so low lying that you really feel when you are there if something would happen that there is nowhere to go. And there really is nowhere to go. The only connection Kiribati has with the outside world is a few flights to Fiji, and once and a while there is a flight to Hawaii. But it's [about 1,400] miles from Fiji and [about 2,400] miles from Hawaii. And those flights are really super expensive so, the only option that people have is to take a ferry. Twice a year there is a ferry to Fiji, which takes two weeks or so.
What also makes it special is that it's a country going under. Many places in the world we are talking about coastal regions that are being affected. But Kiribati is a country, which means that the whole country needs to relocate, and the question is to where?
We all agree that it's more difficult than before, but good stories, I believe, still sell. There is a hunger and there is a need for the media to have content.
Ochre: You reported that Kiribati bought land on neighboring Fiji as a possible solution. Is this workable?
KL: The government of Kiribati bought a piece of land on Fiji from the Anglican church, and then the president of Kiribati went public and said that we bought land and this is where we are going to relocate my people to. And then the Fijian government got quite upset because they were not informed. They were like: What's going on? There's a country moving to our country. So [the government of Kiribati], you know, kind of changed how they speak about it. So now President Tong says that this land is going to be used by Kiribati to grow crops to feed his population.
[When] you see the people that live in a very vulnerable situation, it makes you wonder why they wouldn't leave. But there are two issues. One issue is that no one really wants to leave where they have always lived. The other thing, which was part of the project, is where people have to relocate to. And that's obviously a very, very incredibly big issue and I believe that it will be one of the biggest disasters we're going to see in the next 50-100 years. Some regions are relatively lowly populated, but if you look at Bangladesh, nobody knows what to do, because they are predicting that they have to move [as many as] 30 million people by 2050.
The problem is that some countries need to open their borders to solve this. If you look at Bangladesh, India is actually building a wall along the border to prevent any Bengali from moving to India. In that sense this is more than just the government's responsibility. This is a global responsibility where there needs to be some very serious thoughts and discussions.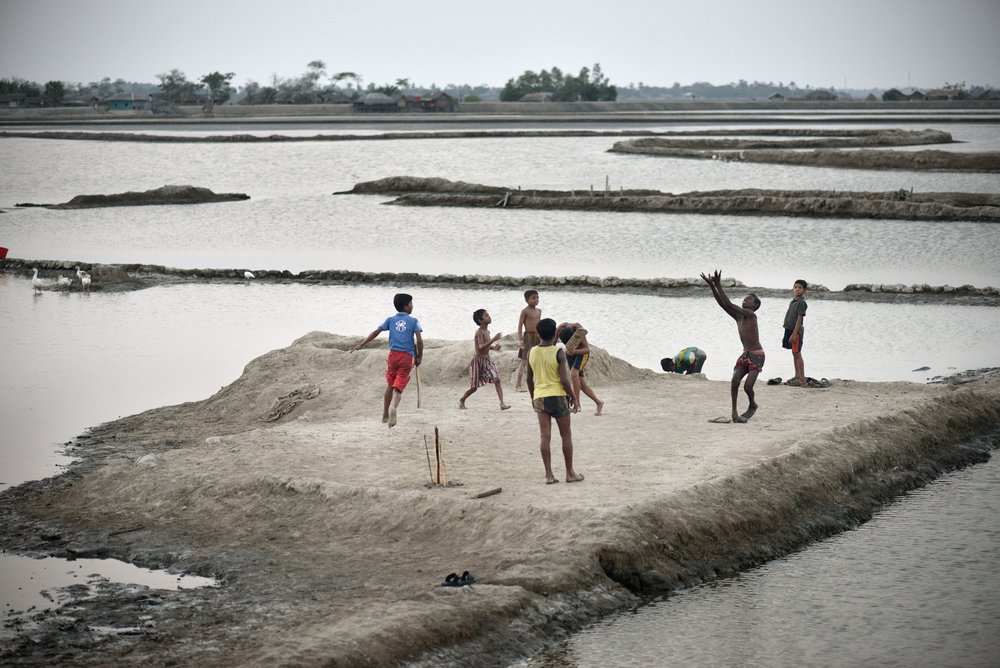 Ochre: Is the world press acknowledging your project as an important story to be covered?
KL: I think so. It's going to be published in several major publications. And The New York Times is obviously the first one.
Ochre: You said this was a self-initiated project. Does that mean that you need to fund it yourself, or does NOOR help you fund it initially until you get a bigger publication on board?
KL: I think those times are gone that an agency, especially a small agency like [NOOR] can invest in the photographers' projects.
If the project is not too big, then maybe you are able to finance it yourself, and then hopefully you will earn it back by getting published. That's often how I work. If it's bigger... too big to request too much money to actually do it, either you have to find external funding, which I was planning to do, and then luckily The New York Times jumped.
It's not just taking a good picture. The beauty—and at the same time the problem—of the profession is that you're not only the author of the work, you're also the producer and the editor.
Ochre: Is self-assigning the story and taking on the initial risk common practice?
KL: For me this has been going on for years. I've never been in a position where I was getting assignments left and right, which sometimes makes it very hard, but at the same time it also means that you have to think your ideas through. Good journalism is based on the fact that you are doing a story that hasn't been done before, or at least gives it a different perspective or angle than what people already know. … We all agree that it's more difficult than before, but good stories, I believe, still sell. There is a hunger and there is a need for the media to have content.
Ochre: Do you work on multimedia photojournalism as well as stills?
KL: [It has become] much more of my workflow. I discovered even now with this fishery story [I'm currently working on] I'm very tempted to do sometimes video and audio because I know that it can be valuable and it can seriously add something to the story.
I think that the main problem is that we are still debating what is multimedia. And often there is no real platform for it. In [the sea levels] project I did a lot of video, I did a lot of audio, I did a lot of media interviews and The New York Times online used some of it. But it's still limited.
Ochre: What advice would you give someone starting out in the business?
KL: Believe in yourself. Come up with unique stories. And be ready to sacrifice.
It is not an easy road. … I'm not saying that you shouldn't have kids, but you have to think about those things if you want to make it happen. If you have to raise two kids in New York and send them to school and you want to drive a car and have a nice apartment, it is going to be very difficult. So it's something you have to think about.
You do it because you believe in it and you're dedicated and you know what story you want to tell. You don't go to Syria because you want to win World Press and that you think you will become famous—that's sometimes the problem.

There is a lot of repetitive journalism going on. And that was my criticism sometimes on Syria as well. There were lots of photographers going to Syria but the only thing you were seeing were the rebels running around when it was still relatively easy to photograph and you were wondering sometimes where are the stories of the people who were affected.
You have to be responsible in what you're doing. ... If you die in the battlefield, it's not just your own responsibility. You can drag your family and friends into it. Your government even. It's only worthwhile to take a calculated risk if you have a good idea. Just to go for the sake of going to a war is not good enough.
Ochre: You take full responsibility for understanding your story. For a long time photographers let the reporters figure out what the story was and rode along to illustrate it. Can you comment on that?
KL: I think those days for the largest part are over. It's incredibly rare that a magazine or a newspaper would send a photographer and a journalist. So most of the time it's a photographer. … You better be able to research and you better be able to write.
It's a skill you have to learn. It's not just taking a good picture. The beauty—and at the same time the problem—of the profession is that you're not only the author of the work, you're also the producer and the editor, where in the film world or the radio world those are different professions.
Ochre: Turning back to climate change, the United Nations is holding a summit on the topic this September. Do you have hope solutions will come from it?
KL: It's very hard to be optimistic because I think the world is so divided. There are so many interests going on and we have such a short vision. There have been so many failed climate conferences.
I think the West—or let's say the U.S. and Europe—need to take a large share of the blame. Obviously China and India became big producers as well. If we don't show a willingness to take two steps back—get rid of the car or get rid of the second car and forget about taking a shower every day for a half an hour and all those little things—it won't happen.
With this project at least I hope that I can contribute to the discussion and that people realize that something needs to be done.