Photographer Pete Muller: Encouraging Men 'To Be Better than We've Been'
Pete Muller Pete Muller is an award-winning photographer and multimedia reporter based in Nairobi, Kenya. His work explores issues of conflict, masculinity and nationalism in post-colonial states.
Pete covers East and Central Africa for a number of publications, including The New York Times and The Washington Post. He has partnered on humanitarian advocacy campaigns with Amnesty International, UNICEF and the Nobel Women's Initiative. Pete is currently exploring the relationship between masculinity and violence in eastern Congo, Namibia and South Africa.
In 2011, Pete was named Wire Photographer of the Year by TIME Magazine. He is a member of the Prime Collective.
A Note From the Editor
This is the first story in Ochre's "Inspiration" category, a place for us to highlight bodies of work that inspire us. Pete Muller was a natural choice of subject.
We find inspiration not only in his thoughtful, beautiful work, but also in his process. Pete sees and harnesses opportunities that others wouldn't recognize. At a time when photographers are struggling to find outlets for socially meaningful work, he doesn't just succeed. He stands out.
Encouraging Men 'To Be Better than We've Been'
London, June 11, 2014. Pete Muller stands next to British Foreign Secretary William Hague and Angelina Jolie, special envoy for the United Nations High Commissioner for Refugees. They're at The Global Summit to End Sexual Violence in Conflict, where Pete's exhibition, "Beauty in the Middle," chronicles conflict, sexual violence and the courageous work of women survivors and advocates in eastern Congo. For four days, 1,700 delegates from 129 countries gather around the same mission, to stop impunity for sexual crimes in war. The Nobel Women's Initiative—made up of female Peace Prize laureates and a worldwide force for women's rights—has produced the show. Including 45 large, color prints, it's the biggest of his career.
Very big, but part of something even bigger. The month before, Pete was again in eastern Congo, this time wrapping up a shoot on men and masculinity. The topic had been present in his work for a long time, and he at last decided to give it his whole focus. At the London summit, he would be taken aback when a panel addressing the role and involvement of men and boys went to great lengths to qualify the validity of the discussion. The issues of gender-based and sexual violence have, after all, long been deemed women's issues, despite the fact that the overwhelming number of perpetrators are men. And if in the beginning the focus was rightly placed on the survivors, surely the time had come to reflect on what breeds these behaviors, Pete reasoned.
William Hague, Angelina Jolie, a flood of support, men and masculinity. The paparazzi moment reinforced the next project, one on which Pete Muller hopes to spend years, not months.
In an interview with Ochre, Pete opened up about his drive to understand male gender roles and power dynamics, the challenges of visual storytelling, and what brought him from tending bar in Washington, DC, to documenting conflicts in Africa. What follows has been edited for length and clarity.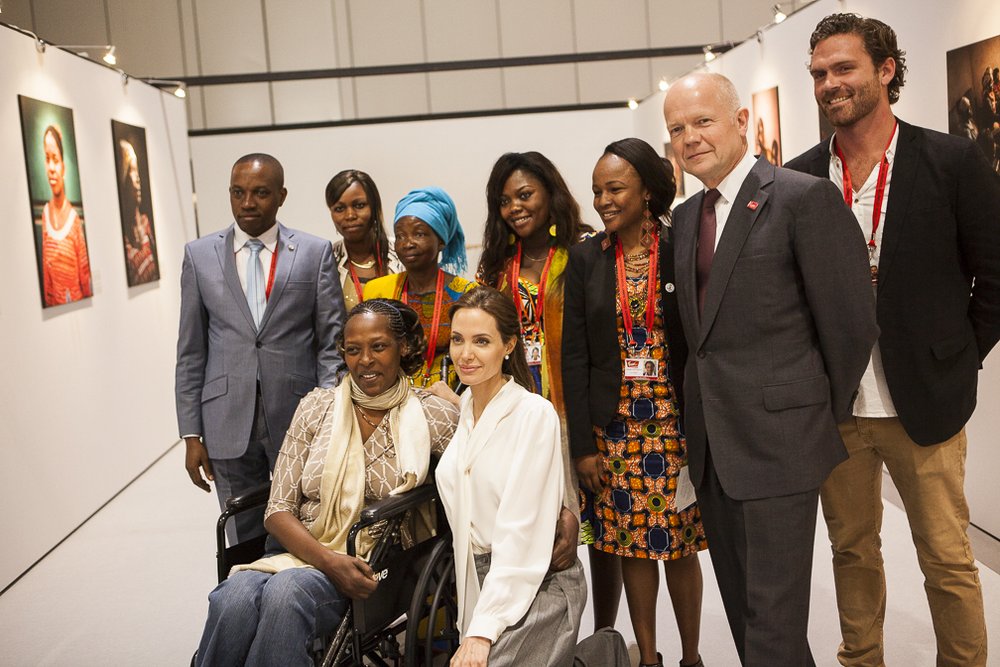 Ochre: Why are you covering men and masculinity?
PM: For me the project about men, masculinity and violence is something that's quite personal. I grew up in an atmosphere where I felt a lot of pressure to abide by quite traditional ideas of masculinity—honor issues, defense issues, emotional stoicism. I was struggling emotionally at the time and, because of the rigidly masculine identity I'd assumed, I felt incapable of being in touch with, or expressive about, the full range of emotional experiences that I was having. I used to lash out as an adolescent and in my early 20s, to get in a lot of fistfights. I felt angry a lot of the time.
I went through two different phases where I started to feel more in touch with my emotional self and the more nuanced feelings that lay beneath my outward anger. What I learned from those breakthroughs is that sometimes when men are demonstrating a lot of outward anger, underneath is often a very complicated emotional matrix that men are culturally conditioned to not recognize or express. I think that if men can be encouraged to be more in touch with how they're actually feeling, and given cultural space to constructively express those feelings, then male anger and violence might diminish. There needs to be some reassessment of the respective ways that we consider successful masculinity and the ways that men recognize and relate to their emotional selves.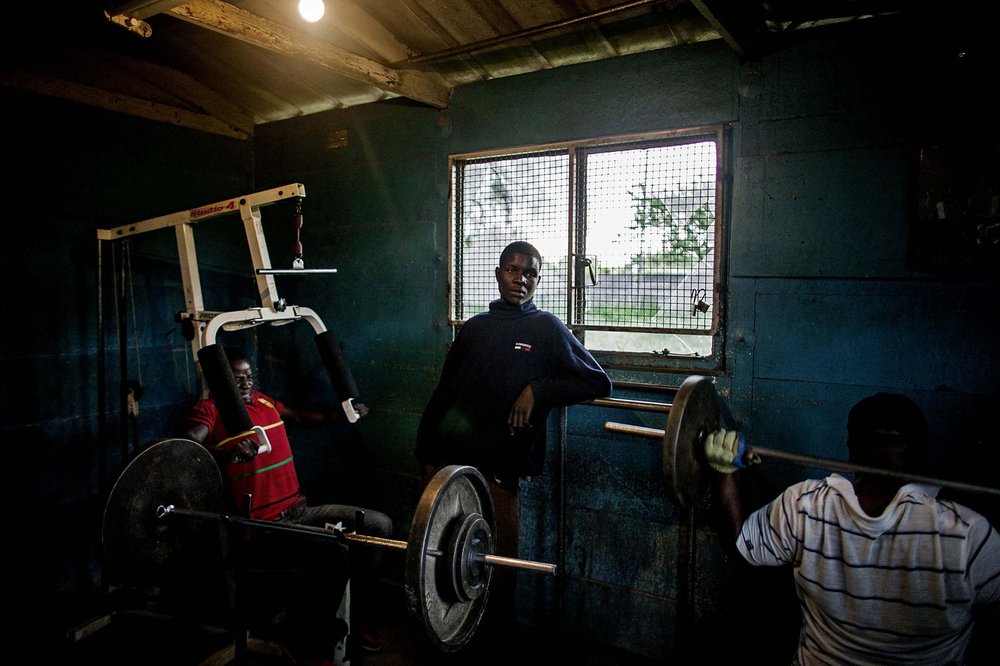 Ochre: Why now?
PM: I'd been thinking about approaching the masculinity and violence subject for several years. I pursued it informally in much of my other work but never as a concentrated endeavor. I think we're living in a fascinating, transitional period in which many people are interested in—and ready for —a different conversation on gender norms and their social implications. I also think that the male side of many pressing social issues, including domestic violence, rape culture and others has been woefully underexplored. Many of these issues have been confined to women's circles and conversations, which is confusing to me given that we, as men, are intrinsically responsible for so many of them. The time has come to ask, what is happening with men that is generating so much egregious behavior?
Ochre: How do you pick your subjects?
PM: I initially intended to work with guys who have been convicted perpetrators of sexual violence. I spent a couple of days in prisons in eastern Congo with that cadre. I decided for a number of reasons that it didn't feel right to me. [So] I looked at men in the military who were deployed in combat situations. I looked at men in displacement camps. I looked at civilian men who live in militarized areas. And I looked at men who live in urban environments, many of whom were better educated and had what people would describe as better opportunities. While I grant everybody anonymity, I find it somewhat of an impediment to put someone in a position where I say: "Have you done this?" … I'm not actually asking men whether they've committed specific acts of violence.

Ochre: You've said that male gender is intertwined with power dynamics and sociocultural hierarchies. Being a white male, a man perceived globally to have power, it must be difficult to document these things. Tell me about your approach.
PM: I conduct really lengthy—and at times, very personal and somewhat emotional—interviews with the guys whose portraits I ultimately make. I try to start at a very visceral level, where I say, "What does being a successful man mean?" We talk ... a while about that. And they start to explain what makes a successful man in their place. Then once we've established that, I introduce: "Do you feel like a successful man?" That's where the conversation usually gets pretty interesting.
I allow it to be what evolves (with some direction), but I don't want to make people feel uncomfortable, or that I'm somehow there to accuse them. This is more about the emotional process of arriving at violence rather than the violence itself.
People like easy divisions. It's a lot grayer than that. Of course there is appalling violence that's committed by the men... But there's also a lot that is going on systemically that can contradict your notions of who is powerful.
Ochre: Why are these interviews so important? Do you document them?
PM: I record all of the interviews because I intend to write considerably on this project. [Writing] serves two purposes: One, it fleshes out what the project is about, which is something that is better articulated verbally or in a written way. It also grants me an opportunity, through our conversation, to expose myself and allow the men to get a sense of who I am. Men do not often speak openly about their emotional struggles, so it is essential that I share my own feelings in order to elicit theirs.
I've found consistently throughout my career as a photographer that when I take photos to really great, insightful photo editors, it's almost as if they can pick out the people I talked to and the people that I didn't. I think that discussion and exchange informs the way that someone is going to let me photograph them. It's very nuanced, but when we've had this sort of emotional interplay, the pictures turn out differently.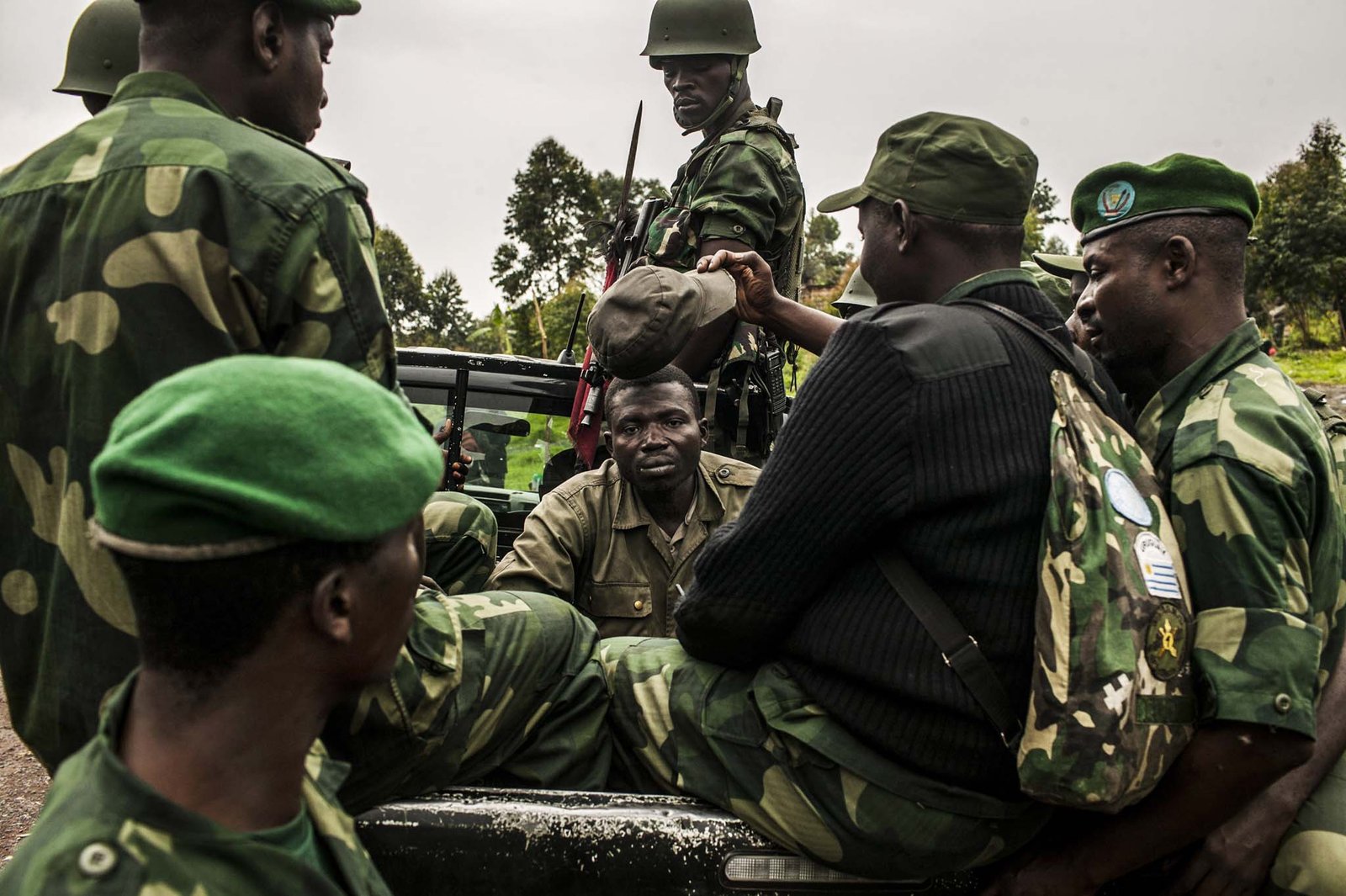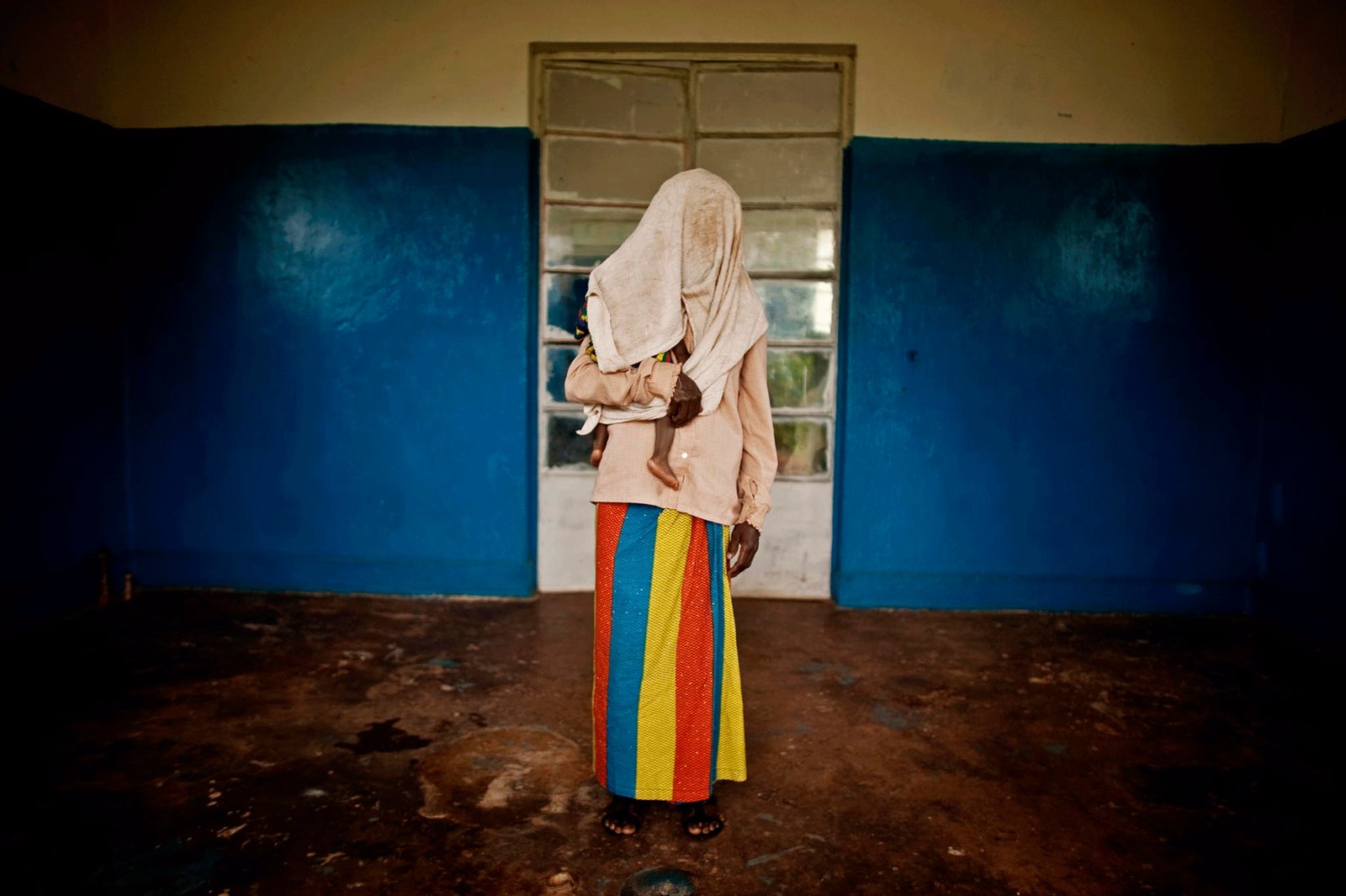 Ochre: The final element of "Beauty in the Middle" focused on the female survivors of a mass rape that occurred in DR Congo on Jan. 1, 2011. Now that you have formally begun your project on men, masculinity and violence, what are your intentions, if any, for combining the two bodies of work, of women and of men?
PM: I intend (at least right now) to really focus on the men's element of this in a way that [is] sensitive and complementary to all of the work that has been done by these extraordinary women's organizations. I hope to present, with their support, a different approach to this issue of male-perpetrated violence. I think there's a lot underneath that needs to be addressed and thought about more critically and eventually incorporated into international programming and projects that aim to encourage men to be better than we've been.
Ochre: Would you expect there to be a difference between genders responding to the pictures?
PM: I think if I've done my job correctly, people would have a sense of connection or empathy for both. What I'm trying to do, or at least in the work in eastern Congo, is illustrate the complexity of power hierarchies. In a lot of conflict landscapes, men are perceived as inherently more powerful by virtue of the fact that they can use their physical force to exploit people who are more vulnerable than they are.
I worked a lot with Congolese soldiers—low-level, frontline infantry guys. When you talk to them about their lives, it's astonishing, the kinds of brutality and deprivation that they endure within the military structure.
That's often not considered when people look holistically at something like Congo. People like easy divisions. It's a lot grayer than that. Of course there is appalling violence that's committed by the men. There is exploitation. There is oppression. But there's also a lot that is going on systemically that can contradict your notions of who is powerful. I believe that the often horrendous treatment of low-ranking soldiers within the military, combined with severe and untreated psychological trauma, plays a role in the violence that some mete out against the civilian population.
Ochre: How do you plan to document these gray areas?
PM: If I'm able to do it, I'd like to dedicate the next decade if not more of my career to exploring this. I want to do this everywhere, because it's so relevant to every culture.
I think as we're progressing as societies, and as things are changing so significantly in the way that gender is constructed and gender/power balances are constructed, this is a conversation a lot of people are eager to have. Everybody from a rice farmer in China to Barack Obama and all the people related to them—men and women alike—can relate to this issue.
Part of what I enjoy about this subject is that it does not necessarily require viewers to talk extensively about the DR Congo and the history of the conflict and the country and Belgian colonialism and all these things that people can find somewhat off-putting or intimidating. The issues of men, masculinity, male stoicism and violence are universally relatable. I've yet to find a place in the world where people, both men and women, do not have impassioned feelings about this subject. Men see these things in themselves and women see them in their fathers, brothers, sons and husbands.
I've started this project in Africa simply because I live here and have for more than six years. It seemed logistically sensible to start work here, although I have every intention of exploring this issue in environments the world over.

Ochre: "Beauty in the Middle" showed your work as a whole story of conflict—from war, to sexual violence, to the trials and victim assistance that followed. What training, if any, did you receive to be a holistic observer of a scene?
PM: I never had any formal training as a photographer. My mother was a news photographer throughout my upbringing, and I spent a lot of time around photography and [its] process. It wasn't something that I wanted to be involved with when I was younger. During my teenage years I thought I never wanted to do what my parents did, but I took a lot in.
Because I wasn't formally trained, when I started taking more pictures, I was constantly taking very up-close portraits of people who I thought were interesting. Then I went through a learning arc about storytelling photography that demanded I … be more observational about things that further inform a viewer of those pictures—to focus on environmental elements of where people are, how they live, what things look like around them and how they interact with their surroundings.
Ochre: In photography, does story serve a greater purpose?
PM: I think that if my pictures don't encourage a conversation, then I'm not entirely sure of their value.
[Pulitzer Prize-winning photographer] Lucian Perkins was very helpful to me in terms of advice and mentorship, and he shared with me something that [National Geographic Director of Photography] Robert Gilka used to tell people: We're up to our eyeballs in good photographers and up to our ankles in good ideas. That resonated with me in a big way, as it had with Lucian. It's relevant not only for photographers, but for all professional pursuits. Particularly in this competitive climate, there is a high premium on good ideas, and good ideas are born of critical thinking and voracious exploration. I believe that the best outlets … want to work with photographers who are not only proficient enough to accomplish their needs in terms of photography, but whose worldview is different or interesting. I believe that photographers are assessed on more than just their pictures.
Ochre: You mentioned that your mother was a photographer. What was her experience like?
PM: She spanned the era from the heyday of photography, when people were on great contracts for big publications and going on great assignments, into the era of the decline of printed newspapers and the massive proliferation of photographers as a result of the digital revolution. It was very frustrating for her, and I think it caused her a lot of dismay. I think that the later years of her career, working for a daily newspaper in Massachusetts, took a toll on her passion for photography. It was a lot of turn and burn assignments for a community that was not particularly interested in insightful, socially valuable photography.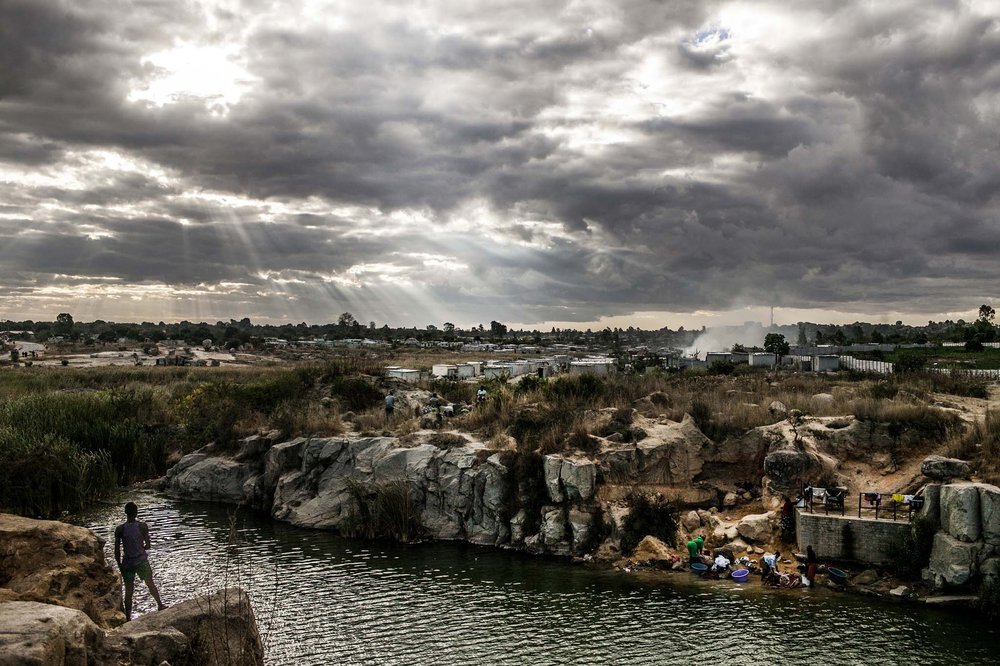 Ochre: How did you get into photojournalism?
PM: I started working in media when I was 23 as a print reporter for a small NGO-supported Palestinian news agency that was covering news in Gaza Strip, West Bank and East Jerusalem. It satisfied me a lot because I had been a devoted history major who did not have the temperament for academia. What I always enjoyed about history was the fact that it was just stories. Perhaps my favorite part of historical study was looking at primary source material. Journalism was a natural extension of creating contemporary primary sources. When I first got involved in journalism I took a lot of pictures, but it wasn't my mainstay.


Pete would like to acknowledge some of the people and organizations who have made this work possible: Zuzia Danielski and Rachel Vincent of the Nobel Women's Initiative, who worked with incredible dedication to curate, print and install the Congo exhibit at the London Summit, and the Open Society Initiative for Southern Africa, for financial support that allowed him to explore the issue of men and masculinity.
Working on a different [administrative] job, on Middle East policy issues in Washington, I felt pretty claustrophobic and bored. A friend of mine who was working for a PR company in DC asked me: Well, listen, we don't have an event photographer for this thing. Do you want to do it? I called out of work sick to do the assignment, and the client liked the pictures. They started using me and were paying me like 500 bucks a day or 1,000 bucks a day. That bit of money (and I was bartending and doing other things) allowed me to start exploring documentary photography in a more serious way. I started doing little projects around Washington about transgender women, and there was a family that was living very unconventionally—I did a story about them. And I got those stories published. But it was a lot of incremental chipping away.
Ochre: What's your advice to young photographers?
PM: Look at the world around you and figure out, what are you interested in, and what are you driven towards? What makes you feel excited and curious?
I had an interesting experience at the [London] summit. This young girl, 23, sought me out. She's getting a master's degree in public health, and she really wants to be a photographer. I said: You have to use all of this. Not every photographer has an advanced degree in public health and is giving that level of consideration and has that perspective on issues.
Whoever you are, whatever you bring to the table—you have to use that stuff. Yeah, you'll have to work on building your ability to be a photographer. But those ideas that underlie the pictures are very important and have to inform the way you approach the subject and present yourself to people who could potentially pay you to do it.