Telling the Story of Segregation, Then and Now
Giulia Afiune Giulia Afiune is a graduate student in Northeastern University's Media Innovation Program and a freelance reporter interested in investigating human rights violations.
It begins like an historical flashback in images. Scrolling down the opening page of ProPublica's Segregation Now, a series of iconic black and white photographs reveal the fight against school segregation in the United States. The Supreme Court abolished segregation in schools nationwide in 1954. But after intense opposition to the ruling, decades of integration has now given way to a slide backwards.
"Now," the piece announces in large white letters, "the South is seeing a resurgence of segregation."
Arguing that school desegregation policies were meant to be temporary, the Supreme Court released schools from federal oversight in a 1993 ruling. Local authorities could now return to making decisions about their school systems once they had shown a " 'good faith' effort to eliminate segregation." The Court also ruled that districts no longer had to prove that they'd eliminated segregation "root and branch," just that they'd done so to the "extent practicable."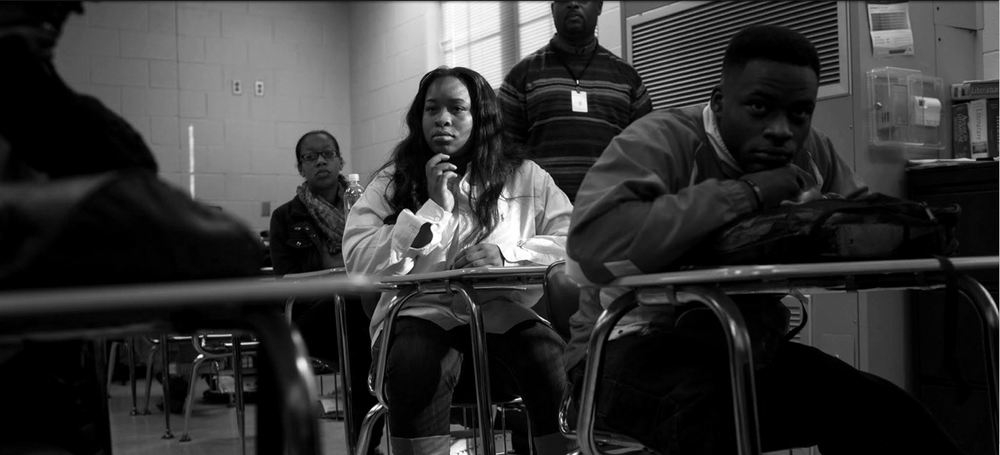 As a black and white picture of a girl in a classroom slowly turns into a color photo, the story describes how how court rulings and public policies are now allowing school systems to once again separate students by the color of their skin. Nikole Hannah-Jones, the lead reporter on the story, says its her favorite part of the design.
The girl in the photo is D'Leisha Dent, a high school student in Tuscaloosa, Alabama, one of the fastest resegregating school districts in the country.
"It shows the continuity," says Hannah-Jones. "We were fighting against this all-black classrooms fifty years ago and here we are today, the same thing, but we're not fighting it and we don't care. I think the design definitely helped to convey that message."
I knew I was going to need to find some narrative device that would get people to stick with all of that history.
Text and design allied to enhance storytelling

Nikole said the synchrony between text and design is the result of a collaborative process, made possible by ProPublica's small newsroom. She said she enjoyed sitting at a table with very smart people to brainstorm and talk through design ideas. This made her think of design as more than just "making things pretty."
"I loved being able to think not just about the written word and the reporting, but also about how we would create a design that also tells a story, that enhances the storytelling. It was great to exercise different journalism muscles," she said.
Designer Grace Koerber's work was meticulous. Every detail including the typography was carefully selected to help tell the story, said Amanda Zamora, ProPublica's senior engagement editor and digital editor for the piece. "Grace spent a lot of time looking for something that might subtly evoke the Civil Rights era, and ended up with Komu A font. The reverse-knockout type on the intro screen, transitions and six word essays resembles the demonstration sign lettering that's so common in many of the photos we found. I think it does a good job of tying that history into the presentation in a cohesive way," Zamora said.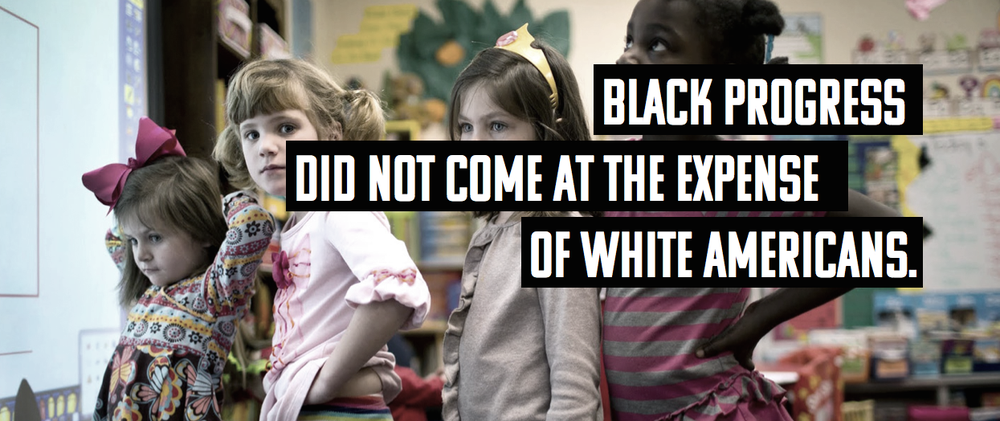 Segregation Now is the story of 60 years of public policies, court decisions, and local negotiations concerning school segregation. Making the topic visually compelling was a central challenge for the ProPublica team. "We spent a lot of time annotating the draft of Nikole's story with key visual elements to make sure the pacing and transitions all made sense," says Zamora.
The story is displayed in a long scroll, with different sections identified by black or white backgrounds. Photographs and important quotes are overlaid, creating breaks along the long text. Also, other photos and key historic events are placed beside the text, giving additional information to some excerpts.
Aside from the text and its layout, the story includes a video, a timeline, an interactive map and data visualization tool, and a collaborative section, Six Words. Each element tells a different aspect of the story. Together, they allow the reader to objectively understand the issue and also empathize with the people affected by school segregation. The result is a powerful work of both multimedia and narrative. It has received several awards, including the 2014 Society of Professional Journalists' Sigma Delta Chi prize in the Public Service in Online Journalism category.
Text is still the key

Modern multimedia resources might work with, but they do not substitute a good journalistic text and the traditional shoe-leather reporting. Nikole Hannah-Jones moved to Tuscaloosa for one month and returned other three times for at least a week. This gave her enough material to zoom in one case to illustrate such a difficult dense subject: she focused on one family, in one city, in one state in the South.
Since she wanted to investigate how the changing of public policies through time affected the population, she chose to conduct the narrative through the story of three generations in a single Tuscaloosa family. Each member's time in school is connected with the political decisions that were being made in local and national levels. Nikole tells the school segregation history chronologically, by creating three chapters:
James (grandfather) – his story matches the period in which segregation was the rule in southern schools.
Melissa (Jame's daughter and D'Leisha's mother) – her story corresponds to the time when desegregation policies were being applied and showing satisfactory results.
D'Leisha (Melissa's daughter and James' granddaughter) – her experience in school corresponds to the current state of school resegregation.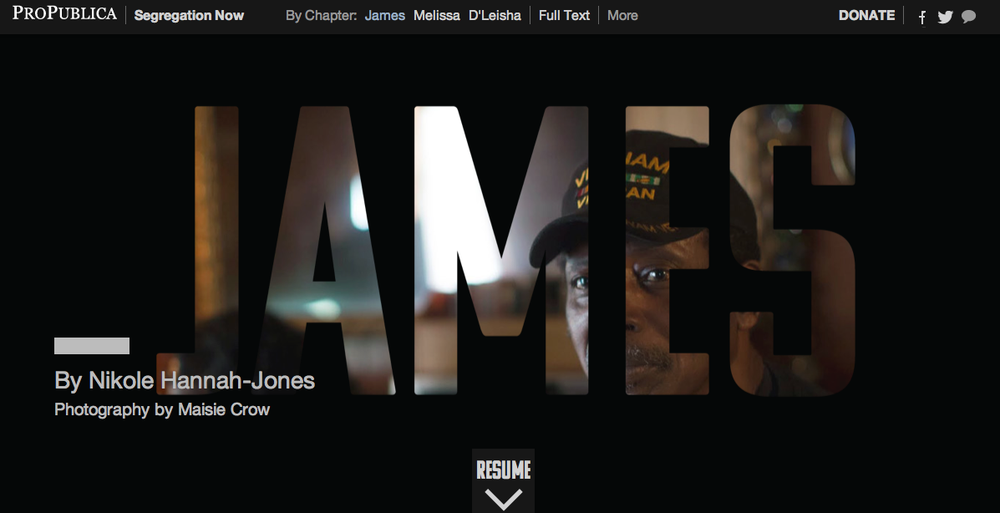 It might seem like Nikole was lucky to find a family that perfectly illustrates history. But she intentionally looked for a family with those characteristics. "Even before I went to Tuscaloosa, because I wanted to include so much history in the story, I knew I was going to need to find some narrative device that would get people to stick with all of that history." Once she got to Tuscaloosa, she asked one of the school's principal to help her find a family with that structure.
She met D'Leisha Dent in the first meeting with students that the principal put together. Then Nikole went on to build a relation with the Dent family that would allow her to tell such a detailed story. "I was very honest from the beginning: [I told them] what I was trying to do, why the story was important and why their particular story was important."
Nikole had to be patient and sensitive to get the Dent family to open up with her. She didn't want to risk crossing any limits. "I would call up and say: 'Hey, I'm gonna be in town, can I hang out with you guys?' but I was not always reporting."
Data: where it all started

"I ended up in Tuscaloosa because I had gotten some data on the school districts that were most rapidly resegregating and Tuscaloosa was in the top ten," says Nikole, referring to a study conducted by Stanford University education professor Sean Reardon.
Nikole teamed up with ProPublica's data journalists to verify Stanford's data and collect more information on the state of school segregation countrywide. They wanted to check if resegregation was a national tendency. "It took three people, about four months, to actually try to track down the status of all the school resegregation orders," she said. "We got the school segregation data by downloading demographic data collected from each school district from the US Department of Education's Office of Civil Rights going back to 1988. We then calculate levels of segregation and chances in segregation overtime using the dissimilarity index."
The team chose to present this data in a map that shows, in each state, the percentage of African-Americans enrolled in schools designated for minorities. The map has a built in time-line that shows how this index has increased from 1993 through 2011 – a clear sign of resegregation. Readers can also look for information on their own school district, since the team built a searchable database.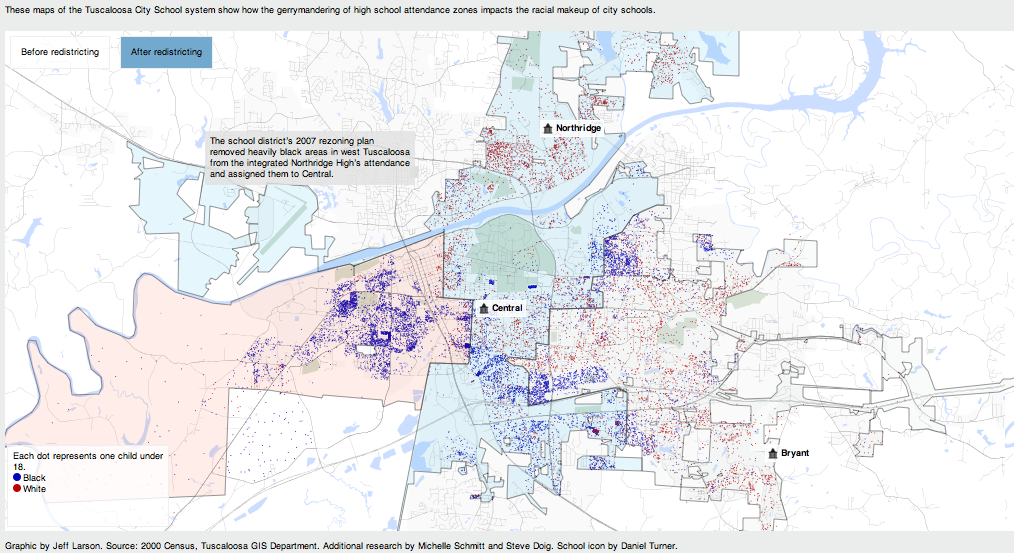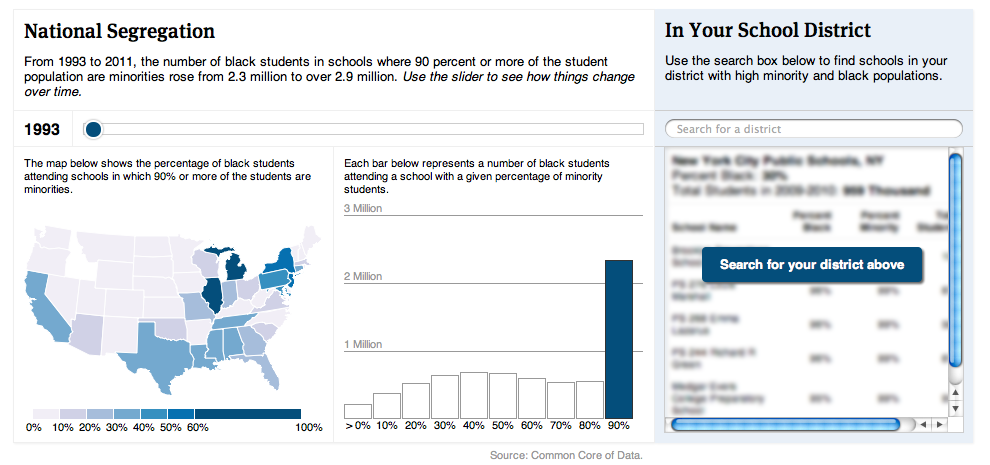 What Nikole considers groundbreaking in her report is the clear evidence that school resegregation was intentional in Tuscaloosa. Her investigation proved that it was negotiated in a secret arrangement between white and black local leaders. The deal ultimately led Tuscaloosa to be released from the federal court order to desegregate. Local authorities then chose to rearrange the district's schools to a neighborhood system. What ProPublica's data analysis showed was that the school attendance zones were carefully drawn to ensure that most black students would go to a single high school, even though the school was located in a mixed neighborhood.
"In Tuscaloosa, we also mapped the school attendance zones, where we overlaid data on population to effectively see if the resegregation was intentional because it gerrymandered attendance zones - which in fact it was. So we were saying that segregation couldn't be avoided because neighborhoods were segregated, but the attendance zones were drawn in a way that ensured segregated schools," explains Nikole.
Segregation Now and ProPublica's crowd powered journalism

Uniting the work of a reporter, data journalists, an editor, a designer and a photographer/videographer made Segregation Now a comprehensive and engaging multimedia journalism piece about school segregation. But giving voice to the students was also important for ProPublica.
"One of the things that has always struck me in writing about education is how little voice the youth has. Of course they are the ones who are most impacted by these decisions and they have almost no voice," argues Nikole.
Zamora, ProPublica's engagement editor, explains that in order to incorporate student voices in an authentic way, they wanted to offer them photojournalism workshops. "Nikole and I pitched our editors on buying cameras and spending time with students in Tuscaloosa high schools to document issues of race and equality from their perspectives."
So, along with six-word essays about race and education, the photos were presented in an exhibit open to the Tuscaloosa community on May 2014, two weeks after the piece was published.
Since the workshops were held in two schools – one integrated and the other nearly all-black – they were an opportunity for students to experience integration. "Some of the Northridge students had literally never met students from the majority-black Central High school before we got them together for photo editing sessions," Zamora recalls.
According to her, the workshops and the photo exhibit motivated a community discussion on resegregation in Tuscaloosa and the students ended up proposing an exchange program between the high schools. "That took real courage for them to do. They pushed very hard to make the exchange happen, and last May, the school district finally did. It was incredible to watch these students embrace the storytelling but also advocate for themselves. I'm really proud of them," says Zamora.
Six Words is part of ProPublica's effort to invite the audience to contribute to their journalism process, as Amanda described in a recent piece on crowd-powered journalism. "I'm passionate about doing audience engagement that proactively gets people involved in our journalism, and this was a great case in point. We didn't wait until the story was published to engage our target audience; we worked with them to tell the story."
She said audience engagement doesn't mean accumulating page views once a story is published, like it does for so many newsrooms. Rather, "at ProPublica, engaging people in the storytelling process is just as important as our distribution efforts, and in fact, reinforces them. The more we can get communities who are directly affected by the issues we cover invested in our stories through active participation, the more opportunities we create for reaching new audiences."