Transmedia Storytelling: Adoptees Journey "Home" to China in Search of Missing Girlhoods
Melissa Ludtke Melissa Ludtke is an award-winning journalist, producer and author. She is the producer and writer of "Touching Home in China: in search of missing girlhoods." She has reported at Sports Illustrated, was a correspondent with Time, and the editor of Nieman Reports at the Nieman Foundation for Journalism at Harvard University.
An umbrella shields two teenagers from a scorching midday sun. Chen, a local girl, guides Maya on her first walk through the rural China town where, as a newborn she was abandoned in September 1996. Maya looks back as if hesitant about embarking on this journey of discovery in a place where she has no memory of being. Only its name – Xiaxi Town – found on her official orphanage documents, led her "home."
Along with her orphanage crib neighbor, Jennie, Maya crossed 12 time zones to reach the towns in China where each was left on a September day. During China's one-child policy era, when a family needed a son, it either hid or abandoned its out-of-plan daughter. Each girl was nine months old when she left the city orphanage and flew to America with her adoptive family. Going back as 16-year-olds, Maya and Jennie spent time with one-child daughters whose families raised them in these farming towns. In all, six Chinese girls befriended and guided these adoptees in their search for clues about the girlhoods they didn't have.
Touching Home in China: in search of missing girlhoods, a transmedia project, draws from these Chinese and American girls' cross-cultural encounters to tell stories of discoveries made about girls' lives in rural China. In turn, the girls' stories are now the building blocks of a tiered digital curriculum designed to engage students in middle school, high school and early years of college. Lesson plans align with each of the six stories and partner with digitally curated resources to spur in-depth exploration of topics ranging from contemporary China to multicultural America, from population policies to gender issues, and adolescent identity to transracial upbringings.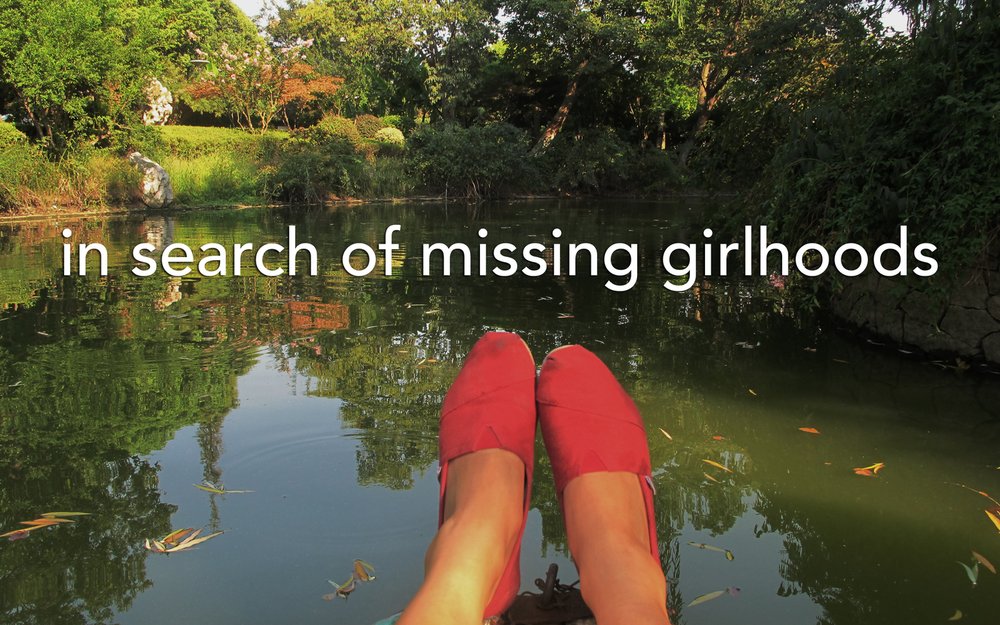 Each of the project's stories – "Abandoned Baby," being its first – combines video, audio, photographs, narrative text and graphics – as storytelling elements that speak to what the girls talked about in their time together. The project's website is coded for elegance of design and ease of navigation. A series of iBooks display each story's content, reformatted through iBooks Author as immersive and interactive iPad experiences. Real-time updates about girls and women's lives in China are shared among global audiences via the project's various social media platforms, Facebook, Twitter, YouTube, and Instagram. The project's e-newsletters via MailChimp keep nearly 1,000 subscribers up to date on its progress.
Collaboration is Touching Home in China's core strength. Serendipity built its spine.
When my daughter, Maya, was going "home" to China, I thought it might be a good idea to capture the girls' experiences on video. A veteran journalist, I followed Rule #1 of reporting: if you don't gather string on a story, it won't be there to tell. What I'd do with the video wasn't part of my thinking, then. I just knew it might be good to have.
In seeking guidance about how to get this video shot in China, I turned to Wu Nan, a journalist in Beijing and my friend. In my early planning of this visit, I paid Nan to take a four-day scouting trip to the girls' "hometowns" to see if she could find girls their age who wanted to be Maya and Jennie's guides. I knew enough about being a foreigner in rural China to know that Nan, being Chinese, should introduce this idea to the town's residents.
Collaboration is Touching Home in China's core strength. Serendipity built its spine.
Now Nan proved invaluable again. She connected me with Jocelyn Ford, a former Beijing bureau chief for the Marketplace, a U.S. public radio show. Fluent in Mandarin and English, Jocelyn's well-honed instincts about reporting in China and her on-the-ground experience with videotaping girls and women for her own documentary film, Nowhere to Call Home, offered a perfect fit. Early in August, Jocelyn took the five-hour bullet train ride south from Beijing to join us in Changzhou for the girls' three weeks of visits with their new hometown friends. With her was Lillian Luan, a Chinese-born, U. S. educated filmmaker, who'd act as our operations manager, as she did on Jocelyn's film. Filling out the bilingual video team was Yanli Liu, who came highly recommended by a journalism professor she'd studied with in the United States. Now working in China, Yanli was eager to take a break from her job to intern with us.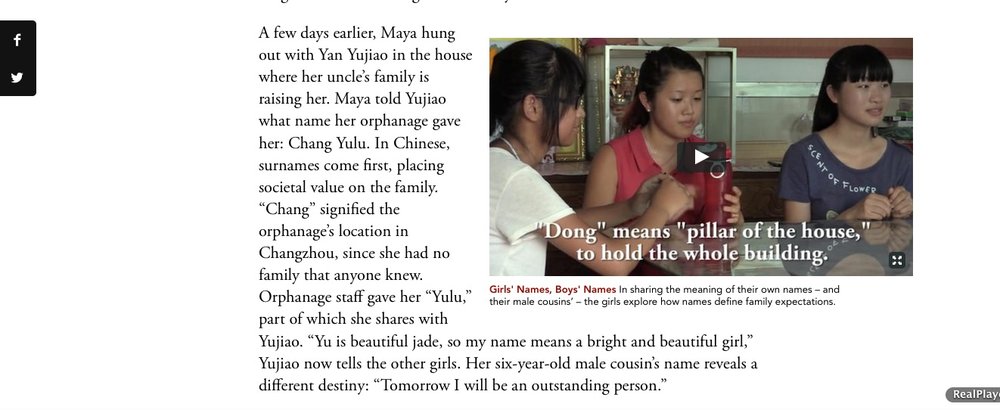 To pay Jocelyn and Lillian, as well as Jane Liu, our Chinese translator/fixer, (including their hotel, food and transportation), and purchase video and audio equipment, I dipped into my savings. Recently, my mom had died of Alzheimers and left me a tiny inheritance. As an anthropologist, she focused her writing on girls and women's lives. In her 70s, my mom taught herself to shoot and edit video and made documentaries. As a tribute to her, I used what she gave me to give us a running start. I knew she would have wanted this to happen for her granddaughter."
In China, our all-women contingent added one more woman. On our first day of filming, Ford hailed a "black" car, a.k.a. an illegal taxi. From then on, its woman driver transported the girls, video crew and translator from our hotel in Changzhou, the city where the girls were in the orphanage, to the towns 25 kilometers away. As this project's producer, I watched each day's shoot and talked with Jocelyn and Jane about the girls' upcoming plans. Based on what I saw happening with the girls, we talked about questions that Jocelyn could ask.
Mostly the video crew shot what the girls did, though on occasion Ford interviewed them, too. (She also returned to film some of the girls several months after Maya and Jennie had left.) I also gave Sony Action Cams to the girls so they could share aspects of their lives that Jocelyn wasn't there to capture. Still, what mattered most was that the girls enjoy their time together. Maya and Jennie had not come to China to become characters in a documentary film; they were there to fit pieces of their lives as Chinese-born girls into their evolving sense of identity as American daughters in Caucasian families. If stories emerged, we'd figure out how to tell them after we were home.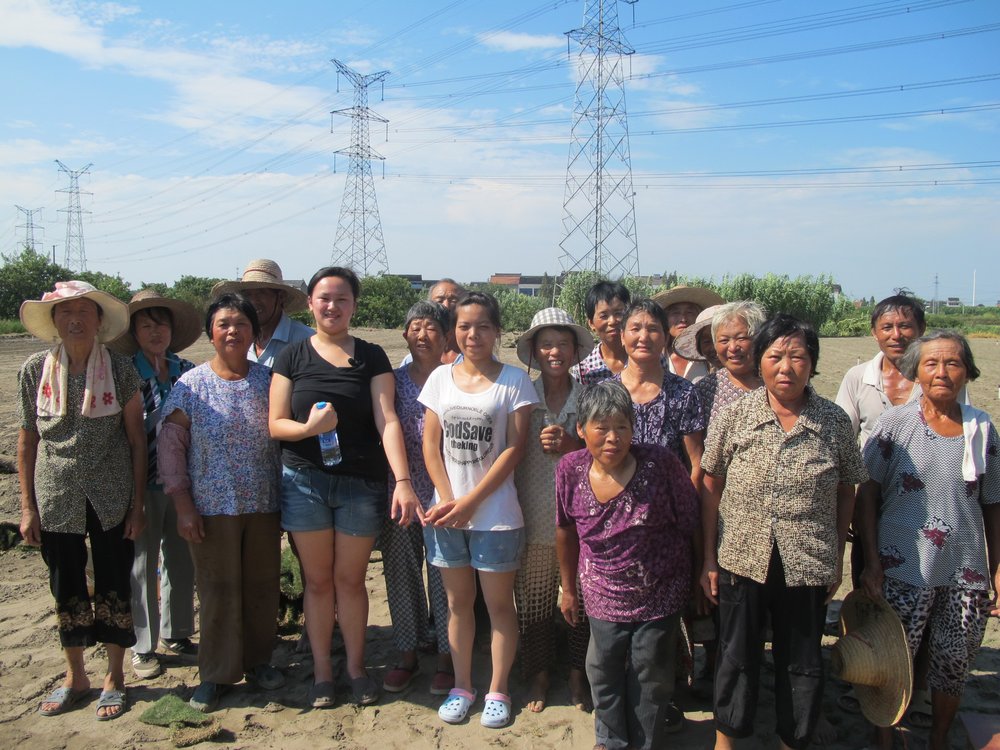 Leaving China, I placed a hard drive with the same 80 or so hours of video in each of four suitcases, a precaution in case Chinese officials confiscated one in transit; all of the drives made it home. Back in Cambridge, MA, I talked with friends who are documentary filmmakers. Each told me the same thing: the video I had wasn't enough for a documentary film. Only more visits by the girls, shot over time, would develop the dramatic arc of a film. With Maya and Jennie being seniors in high school, and with college and other adventures ahead for them, trips back to their towns in China were unlikely anytime soon.
Enter Julie Mallozzi, a filmmaker whose first documentary, Once Removed, traced her family's ancestral roots in China. After a few meetings, we agreed to work together though neither of us knew what form our collaborative storytelling would take. For Julie, work on this project offered ways of exploring how to integrate shorter videos into digital storytelling; as a print reporter, I was eager to learn how to enliven narrative text with interactive elements and visual effects.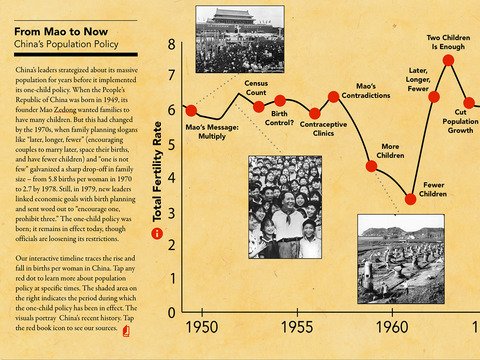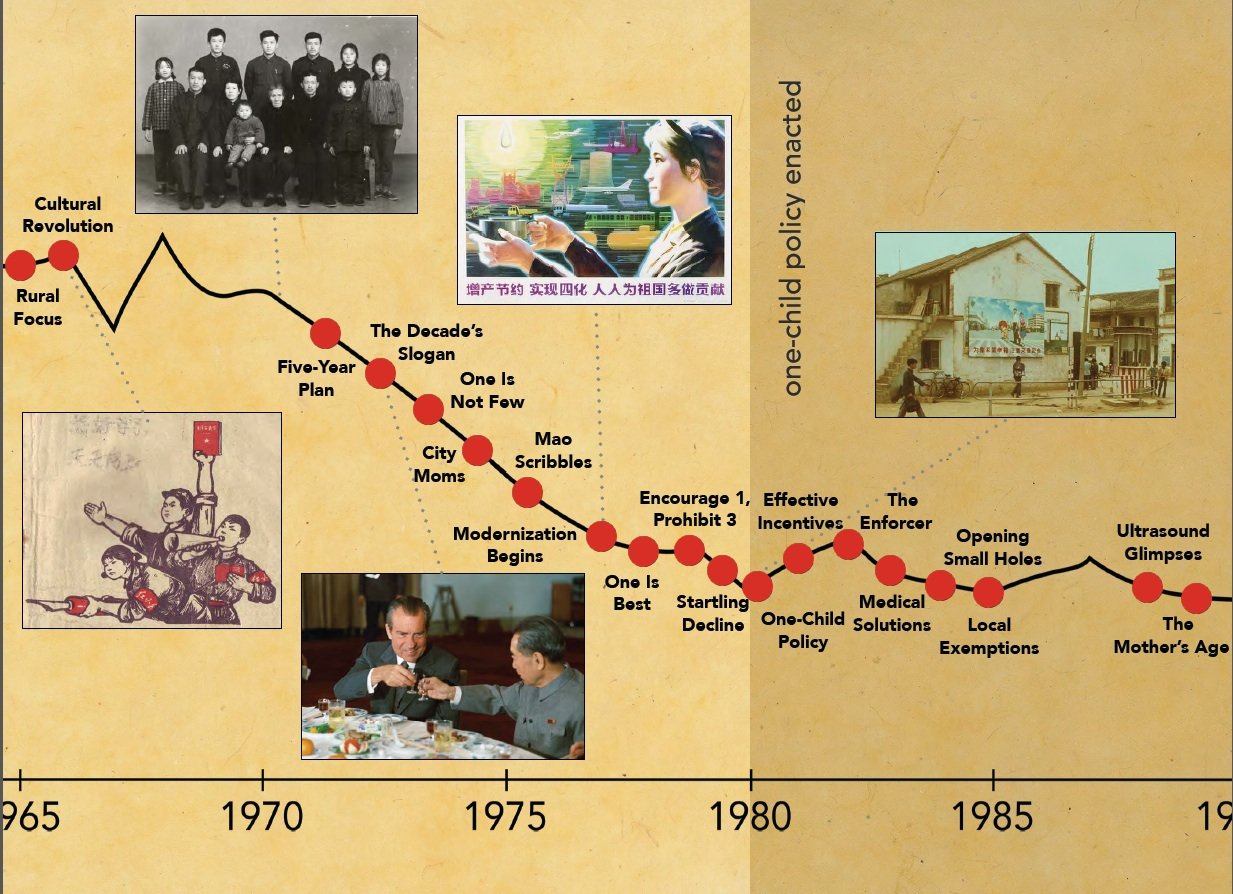 The moment when Julie and I came upon a video about Al Gore's Push Pop Press transmedia book, "Our Choice," we'd found our collaborative pathway. Using Apple's iBooks Author on our computers, we could replicate the transmedia experience of Gore's book by taking full advantage of emerging visual technology. After sketching out six chapters of an iBook, we drew up a budget. We made a pilot iBook and took it into a classroom to observe student engagement with our story and see what kind of learning experiences it prompted. Then, we created a video to showcase our iBook on our Indiegogo crowdfunding campaign; our project reached its $42,000 goal in the designated 30 days. Contributions became tax deductible through our project's 501(c)3 sponsor, Filmmakers Collaborative. This Indiegogo campaign remains active as an In Demand project; total raised is $43,280.
By November 2014, with funds in hand, we began making Touching Home in China's iBook. Since then, our transmedia project has expanded in scope and ambition, in part to keep up with rapid changes in technology. Here are some of these changes:
Apple's iBook began to support the publishing of a series of related iBooks. Touching Home in China switched from producing one large iBook to creating a series of six iBooks (each sells for $3.99, a price set by its authors). Each iBook addresses a different aspect of the girls' journey and discoveries they made about girls and women's lives in China.
Early market research we did pointed to the iPad as the primary device for classroom digital learning. However, by 2015, we realized that Google Chromebooks was usurping the iPad. On Chromebooks, students can only access the Web, so our iBooks would not work. I realized we needed funding to create a transmedia storytelling website so I applied for and received a Mass Humanities' Social Media Outreach Grant ($10,000).
Next, I turned to Northeastern University's Journalism School's blog Storybench to deepen my knowledge about digital storytelling. There, I came across "How to build a simple narrative web layout," a tutorial written by two student editors at The Tufts [University] Daily. Intrigued, I reached out to those students, Nitesh Gupta and Nick Pfosi, and they collaborated with us in the design of our customized website. Now, Gupta, who does the coding, works closely with Julie and me as we bring our stories and other elements – The Girls page, our "From Mao to Now" timeline, and our curriculum and resources content– onto our website.
"On the Web, it's about designing the story for 30 different browsers so it's all about ratios and margins" Nitesh says, describing his coding of Touching Home in China for optimal display and utility on a range of digital devices – from phones to tablets to large desktop computers.
While Nitesh proceeded with placing the project's stories on the website, I focused on how to get our project's curriculum written. To do this, I needed to partner with educators well versed in developing online lesson plans. Once again, I had to find a way to bring in more funding. This time, after many months of communication, I was invited to apply for – and our project received – a $20,000 Special Projects Grant from The Henry Luce Foundation.
As Nitesh and I designed – and he coded – our curriculum pages and put the first lesson plan on website, I was applying for a $5,000 Mass Humanities Program Grant, which the project received. Paired with Luce Foundation funds, I will use this Mass Humanities grant to support educator outreach with our curriculum. Already, Touching Home in China is scheduled to present at the 2016 conference for social studies educators and at the Alliance for Study of Adoption and Culture's conference. Fran Sterling, one of the curriculum writers and I will teach a fall webinar for educators at the invitation of the Five College Center for East Asian Studies and do a workshop for teachers at the China Institute in New York City. This spring Julie and I directed a two-hour Transmedia Storytelling workshop for the Filmmakers Collaborative community.
Weaving together a multidisciplinary, multigenerational, transcontinental team is key to our project's on-going, ever-expanding development. In June 2016, Touching Home in China is still being created, piece-by-piece. This is what we've published to date:
Four iBooks: "Abandoned Baby," "Touching Home," "Daughter. Wife. Mother.," and "Learning About Learning"
Four stories on the website, with our fifth, "Women's Work," in progress.
Two of our curriculum's lesson plans, "Abandoned Baby" and "Touching Home" on the website.
By the fall of 2016, students will be able to immerse themselves in our interactive stories. Our Challenge Based Learning lesson plans will guide students to in-depth exploration and collaborative inquiry of topics relating to life in multicultural America and contemporary China. Even a year ago, I could not have imagined we'd be doing all we're doing now with this project. It's truly been a magical journey in which at each new step I've met just the right people to show me the way forward.