Visualizing Complexity with Vizzuality
Sophia Fox-Sowell Sophia is is currently getting her Master's Degree in Media Innovation at Northeastern University with a concentration in climate change and political discourse.
Climate change is a complex and difficult topic to communicate, in part because it can feel like an abstract trend over time rather than a specific event in time and space with a human face. And while U.S. government agencies like NASA and the National Oceanic and Atmospheric Administration (NOAA) offer authoritative data on climate change, much of the public has difficulty accessing it. Just because the information is out there doesn't mean people use it.
David González, Chief Technology Officer at Vizzuality, a data visualization company involved in the White House's Partnership for Resilience and Preparedness, or PREP, firmly believes in the importance of engagement when it comes to climate change data. "Data can't just be available and accessible — it has to be used," says González.
Established this past September, PREP came together to create a data platform for engagement so international and national city planners, urban developers, and policy makers could make informed decisions on issues relating to climate change. Data visualizations have been widely used by climate scientists and science communicators to depict the impacts of climate change and to bridge the gap between what may seem an abstract concept with the public's everyday experiences, making clearer its relevance at the local and individual level.
Bridging the Gap
González founded Vizzuality in 2009 with a vision of bringing together science, policy and citizenship through design and technology. At the time, scientists were producing large amounts of relevant data, he says, but there was a gap in understanding. As chief technology officer, González oversees business and project development, setting the technical direction for the company and ensuring each project leverages data gathering and visualization technology in an innovative way.
Data can't just be available and accessible — it has to be used.
According to a poll earlier this year by The Hill, 70 percent of Americans believe that climate change is real; however, action on climate change continues to rank close to the bottom of the priority list compared with major voting issues such as the economy or foreign policy. Experts argue the reason for the disconnect between belief and action lies in the way individuals process risk.
But by using design and climate data in innovative ways, González believes, visualization can make it easier for people to view and use the data to gain new insights, regardless of their direct or indirect involvement with climate change. Visualizing the impacts of drought in California or landslides in Colombia can have a visceral effect where tables and graphs fall short.
PREP evolved from of the Obama Administration's 2014's Climate Data Initiative, which intended to make the data that the federal government collects and generates more accessible and help with decision-making and natural resource management. There are more 160,000 data sets readily available on the PREP website. Click on the "climate" tab and there are hundreds of datasets available. PREP, which is a public-private partnership, intends to take the Climate Data Initiative a step further by curating those datasets and adding more context for individual locations and cities, which might have specific concerns like sea level rise or rainfall.
"Because of the opportunity mainly coming from satellite visibility or from drones and sensors, there's also advancements in computing technology for big data which makes it easy to turn it into meaningful data," Gonzalez says. At the moment, the data is only available on a national and global scale and primarily comes from the government or research organizations like the World Resources Institute.
Ashley Jablow, Vice President of Development and Impact at Vizzuality, is helping the company establish a greater physical presence across the United States from their office in Washington D.C. "Anything you can do to connect policy makers and citizens, making sure people can speak the same language or at least are using the same vocabulary, is a win," says Jablow.
Data Visualization at Work
Vizzuality is known for releasing open data on the web through beautifully designed, interactive, usable applications and tools.
"We're a mission-driven company and want to track the impact of things we create," Jablow says. Currently based in Madrid, Spain, González sees Vizzuality's projects as social justice opportunities that build off of citizens' concerns. By creating platforms that force interdisciplinary engagement and prioritize information visibility, Vizzuality can help keep climate change a top priority. But the public and other stakeholders will have to hold up their end of the bargain. Everyone must contribute and stay curious for the project to get used.
"The level of complexity that is needed for these types of projects is so vast," González says. "You have civil organizations with ideas and drive and guts to work on politically uncomfortable issues. Then you have governments who produce most of the data but have a hard time putting it out there."
For instance, Vizzuality recently established Trase, a platform that traces the paths of commodities around the world, with the help of the Stockholm Environment Institute. Trase can help users understand the origin and journey of a particular food ingredient – soy, for example – with the use of maps and interactive Sankey diagrams. By bringing transparency into commodity supply chains, Trase aims to help companies, financial institutions and governments understand and address the social and environmental impacts associated with their supply chains.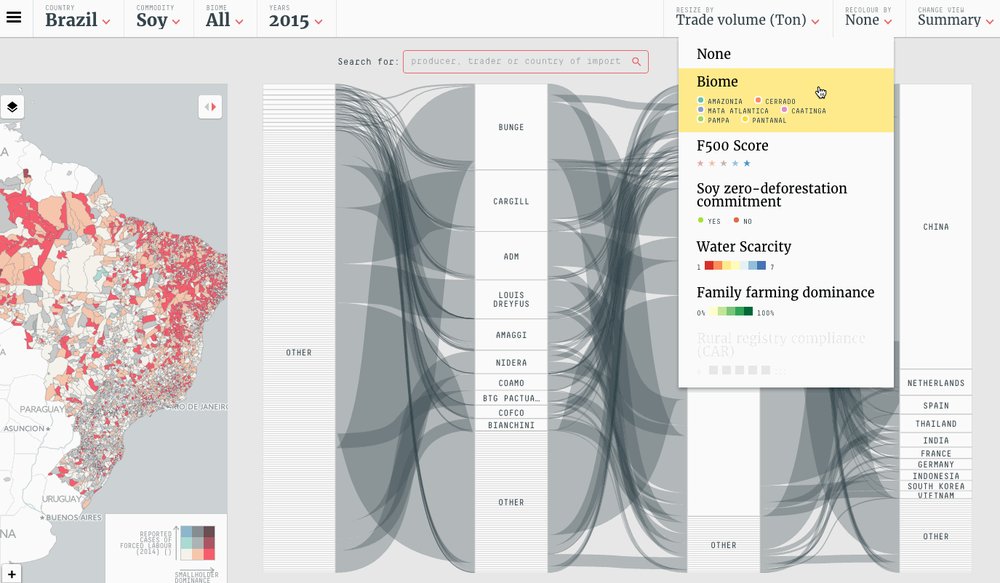 "From import to export, ports to destinations, we're helping consumers understand where soy in their soy-milk comes from through physical representation of their product's course," says Jablow.
Vizzuality frequently collaborates with the World Resources Institute, another partner in PREP. Together they created the Global Forest Watch, a sophisticated, responsive web-mapping application that puts near real-time data at your fingertips. Users can find out if protected areas are conserving forests, explore key trends in different countries or see where trees were lost in the last week.
"When cities are planning for the effects on climate change, it's a pretty challenging task," says Frank Gassert, the Data Impact Lead at WRI. He said WRI seeks to promote open data, data visualization, and integrity across their programs. He also works to identify and develop new opportunities to use data to promote environmental sustainability and economic wellbeing.
"It requires foundational knowledge of what's happening in the city and on information how the climate is expected to change – precipitation, potential flooding, combatting record high temperatures that may influence electrical power grids," Gassert says.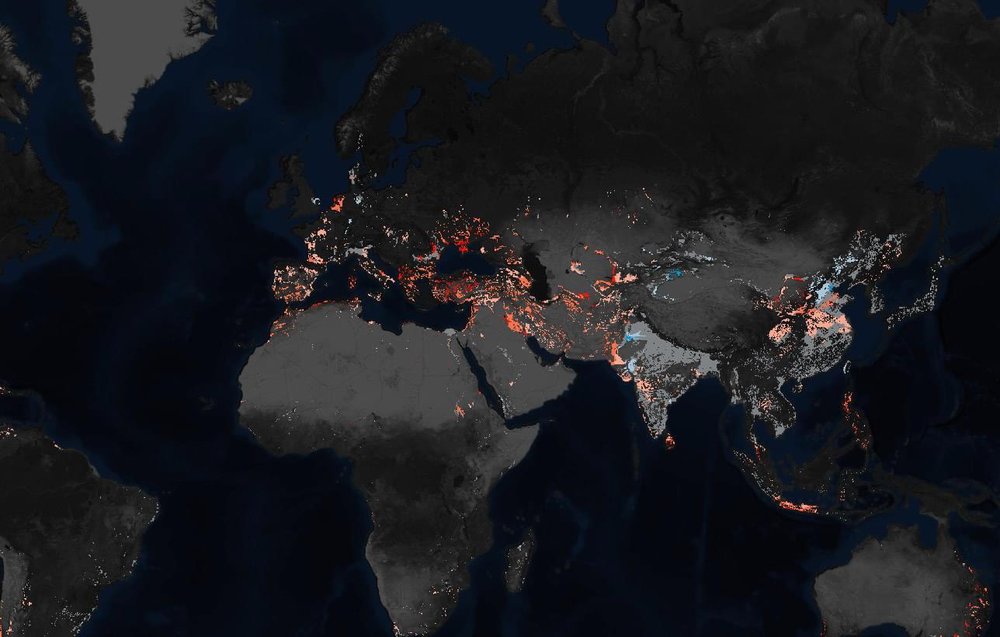 Since the causes of climate change are not immediately visible and their impacts are felt across large geographical areas over long periods of time, he argues that the combination of not being able to attribute any one specific weather event to climate change along with the uncertainty inherent in climate projections presents a challenge to make it an immediate risk in most people's minds.
Gassert advocates for communication strategies that rely on localized climate projections, which can benefit by contextualizing climate change within uncertainty and risk as opposed to debates about the accuracy of the science.
Climate Data under Trump
PREP has been released in beta form. Still, it is currently being used by small groups in Brazil, Sonoma County, Calif. and Washington State. Their main goal is to get something online before the Obama Administration comes to an end. The generation – and sharing – of federal climate data has many researchers worried.
Vizzuality's staff acknowledge that while change is expected during a transitional period between administrations, consensus will remain on some things.
"There's a lot of consensus that climate change is an important issue that requires action," says Jablow. "There are obstacles in place, but like water going down babbling brook, water has to travel around stones."
González says he sees an opportunity for validation of their mission. "It makes us think that what we do is really important," González says confidently. "Maybe it will be a driver for civil organizations not putting enough effort or funding into climate change communication to put in more. Maybe it will give other countries a chance to react."