Hashtags Don't Make Movements, People Do
Andrew DeVigal Andrew DeVigal is an Emmy-award winning innovative strategist known for building bridges, connecting people and ideas and producing meaningful, interactive stories. He is co-founder of A Fourth Act and curator of Interactive Narratives. He is a recent alumnus of Second Story and former multimedia editor at The New York Times.
Laura Lo Forti Laura Lo Forti is a story midwife who helps media makers, not-for-profits and social action groups tell stories that spark social change. She is co-founder of A Fourth Act and The Raw File. She has worked with the the Hollywood Theatre, the National Resource Center for Permanency and Family Connections at Hunter College School of Social Work, Adobe Youth Voices, and the Center for Digital Storytelling, among others.
It's a Saturday afternoon in New York City, late April. On Manhattan's West Side, the IAC building looms tall over the Hudson, and inside is the future.
Walk through the doors to Interactive Day, the culmination of Tribeca Film Institute (TFI) Innovation Week. Polite desk attendants sign guests in, directing them to the talks on the left, the "interactive playground" on the right, and the food trucks—$11 grilled cheese or Korean BBQ tacos—parked out front. In the middle of the space, a coffee bar. There's plenty to consume.
As caffeine buzzes through bodies, voices bounce big ideas off white walls. Gamers, coders, hackers, filmmakers and investors have congregated here to celebrate one thing— storytelling.
While the first of them gathered around fires, storytellers at TFI Interactive are assembled before one of the largest high-resolution video screens on Earth. One-hundred-and-twenty feet wide and 11 feet high, this light isn't made with friction and sticks, but with low-power, solid-state lasers.
Andrew DeVigal, half as high, steps onstage to a podium at the center of the screen. He invites his 4-year-old daughter, Viola, up to dance, but she shies away to her mother, Laura Lo Forti, in the front row. Together Andrew and Laura represent their new company, A Fourth Act. Andrew is here to announce their first co-venture—HARVIS, a mobile web application for interactive storytelling.
Recovering from his daughter's slight, Andrew invites the audience to pull out their mobile devices, open their browsers, and log in to Harv.is. While they enter survey information to describe themselves, he begins.
"In the spirit of co-design," he says, "I want you to help define how you would use HARVIS for your next project." He asks the participants—soon to become a "community"—to open a "gestures" tab and to swipe up or down on their screens during the next 12 slides.
"Swipe up if you see a feature in HARVIS that you like, and can use in your work. Swipe down at any time when you're inspired to make a suggestion to our approach."
At the presentation's end, Andrew aggregates the responses in an "engagement graphic," a line graph rich with audience insight. Spanning the screen, it illustrates peaks of engagement over time. Andrew can click on any peak and see community responses and comments. He can filter through them by community role. He notes that more filmmakers than financial backers have engaged in the presentation, and everyone laughs.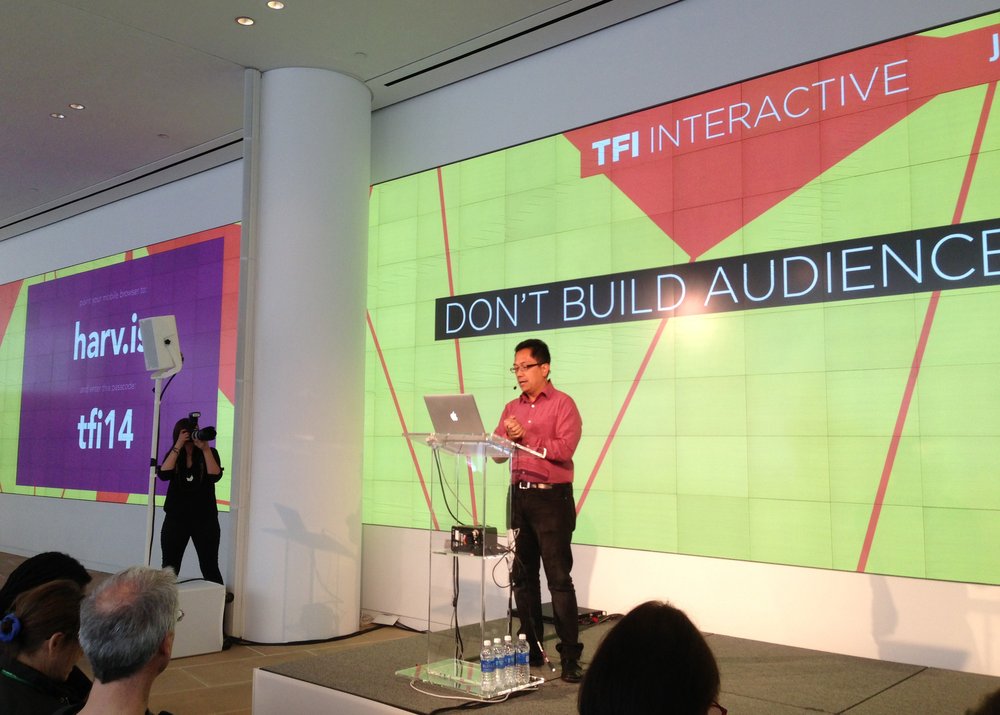 In a changing landscape where anyone can publish anywhere, storytellers from all arenas are asking: is anybody listening?
It's no surprise that Andrew DeVigal is talking interactivity. He has blazed the trails of interactive media, from his informational graphic journalist days at The Chicago Tribune in the 1990s to a six-year run, ending in 2012, as multimedia editor at The New York Times.
Now, however, he is moving the conversation from interacting with an audience to interacting with a community. The change reflects the grassroots sensibilities of Laura, his wife and partner. And it mirrors a shift in the media industry.
Engagement, impact and making a personal connection
When editors used to wonder what made a good headline, there was one sure way to know: It sold papers. Things today are far less direct. What was once a one-way broadcast now involves multidirectional relationships between media makers and their audiences. Online publishers hoping to hold readers' attention are focusing on engagement, impact and making personal connections, often hoping that profits will follow. While they collect audience feedback by the terabyte, they struggle for meaningful ways to interpret that data.
Put simply, in a changing landscape where anyone can publish anywhere, storytellers from all arenas are asking: Is anybody listening?
Adrianne Jeffries brought the issue to the forefront recently on The Verge, in a piece aptly titled "You're Not Going to Read This." Responding to debate over Upworthy's popularity on Facebook, she observed that sharing media and consuming media are not necessarily related. People retweet articles whether they have read them or not. Media may glean affirmation from Facebook likes or Twitter retweets, but these analytics are shallow. Upworthy announced in February that it is trying new ways to assess engagement. Because analytics measuring "time on page" or "unique page views" don't get to the bottom of behavior, it is turning to "attention minutes" in hopes of understanding when people are "really engaged" with content. Other digital media are also refining analytical tools. In the end, however, Jeffries concluded that measuring impact was a problem media makers had yet to solve.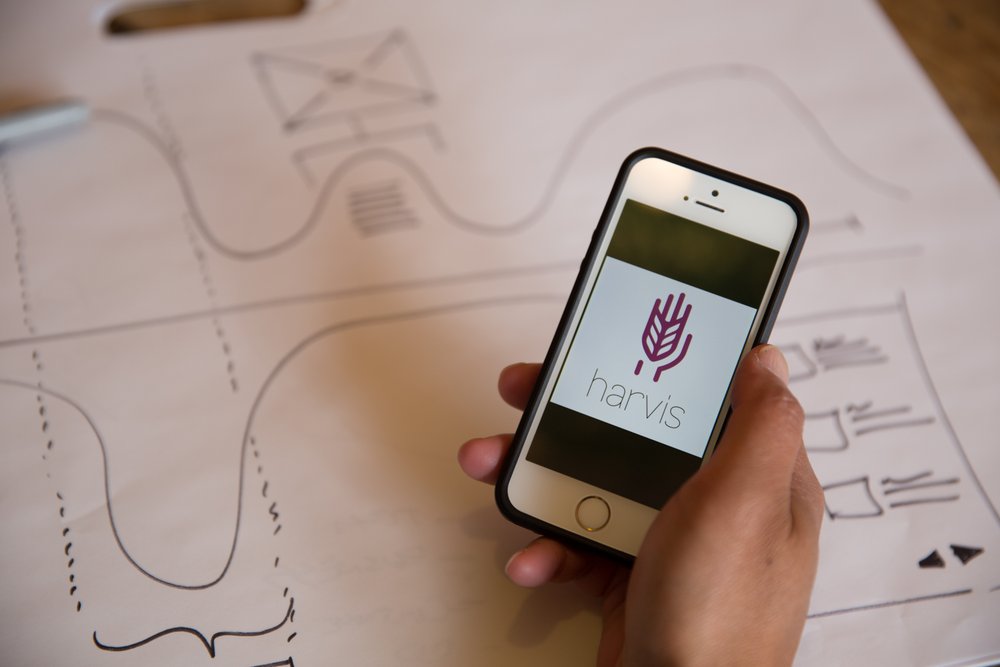 One thing that seems to help is direct, personal connection. In 2013, Josh Katz and Wilson Andrews produced the most trafficked New York Times content of the year. It was a quiz and map not only created by an intern, but published on Dec. 21—10 days before the end of the year. Maybe people home for the holidays had more time to browse online, but most think the success of "How Y'all, Youse and You Guys Talk" was that it involved audience members, personally, in creating the story.
Indeed, when social media and online tools enable audiences to talk back, it's difficult for storytellers to shun audience influence. The consequences are getting attention.
In 2011, Joy Mayer published a Neiman Report on engaging communities in content and conversation. It highlighted the connection between journalists and their subjects, described an unavoidable community influence, and predicted a comeback of "public journalism," with its aim of finding solutions to community problems. (During its 1990s heyday, journalists criticized public journalism for disrupting objectivity standards). Mayer concluded that advocacy is part of the job, and she saw more and more startups concerned with engaging target audiences to foster social change.
Last August, Forbes highlighted the work of Jim Berk, chief executive officer of Participant Media, whose aim, like that of A Fourth Act, is to tell stories, engage an audience and spark social change. In September, The Knight Foundation awarded $165,000 to Reframe It to test a new polling model, Deliberative Polling, which measures community information needs in the context of legislation and public policy. Its goal is to help journalists create stories with more impact. In addition, The Knight Foundation has awarded $2.2 million to seven news organizations with intentions to report on health by focusing on solving problems.
In short, media makers are not simply seeking interactivity. They are making efforts to involve subjects, reach affected communities and address public concerns.
Engagement gets physical with HARVIS
HARVIS takes this trend a step further, into a realm easy to overlook in the digital era: physical space.
Engagement with HARVIS means involving people in a common story. More literally, it means putting people together in a room to share personal stories within the context of a greater story, such as a documentary film.
HARVIS isn't a social networking platform like Facebook or Twitter. The type of engagement found online isn't what Andrew and Laura want to create. Their idea is best explained in a Chinese proverb they often reference: Tell me, and I'll forget. Show me, and I may remember. Involve me, and I'll understand.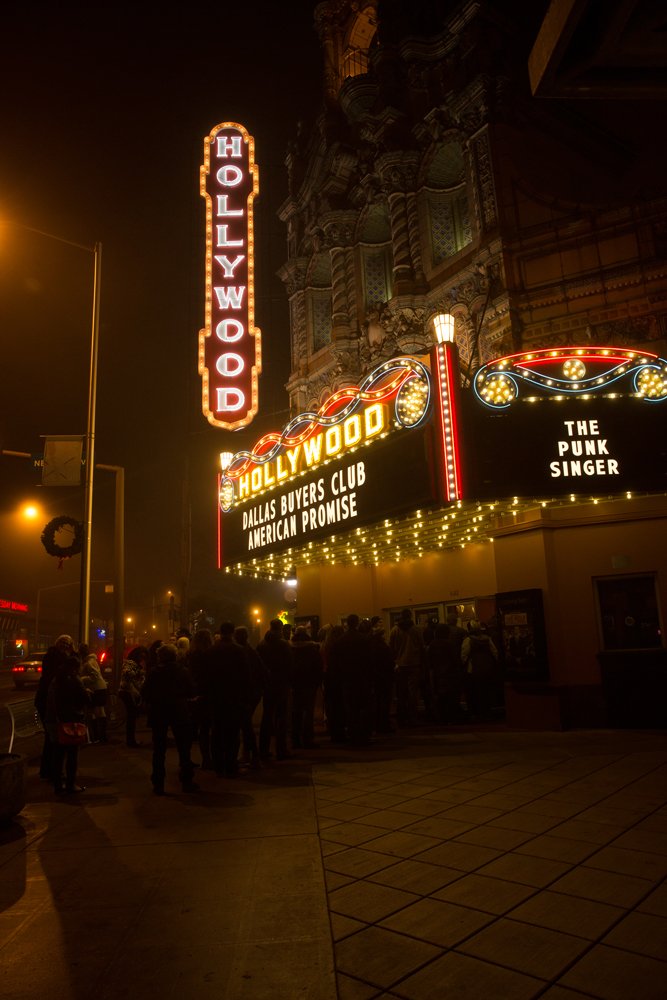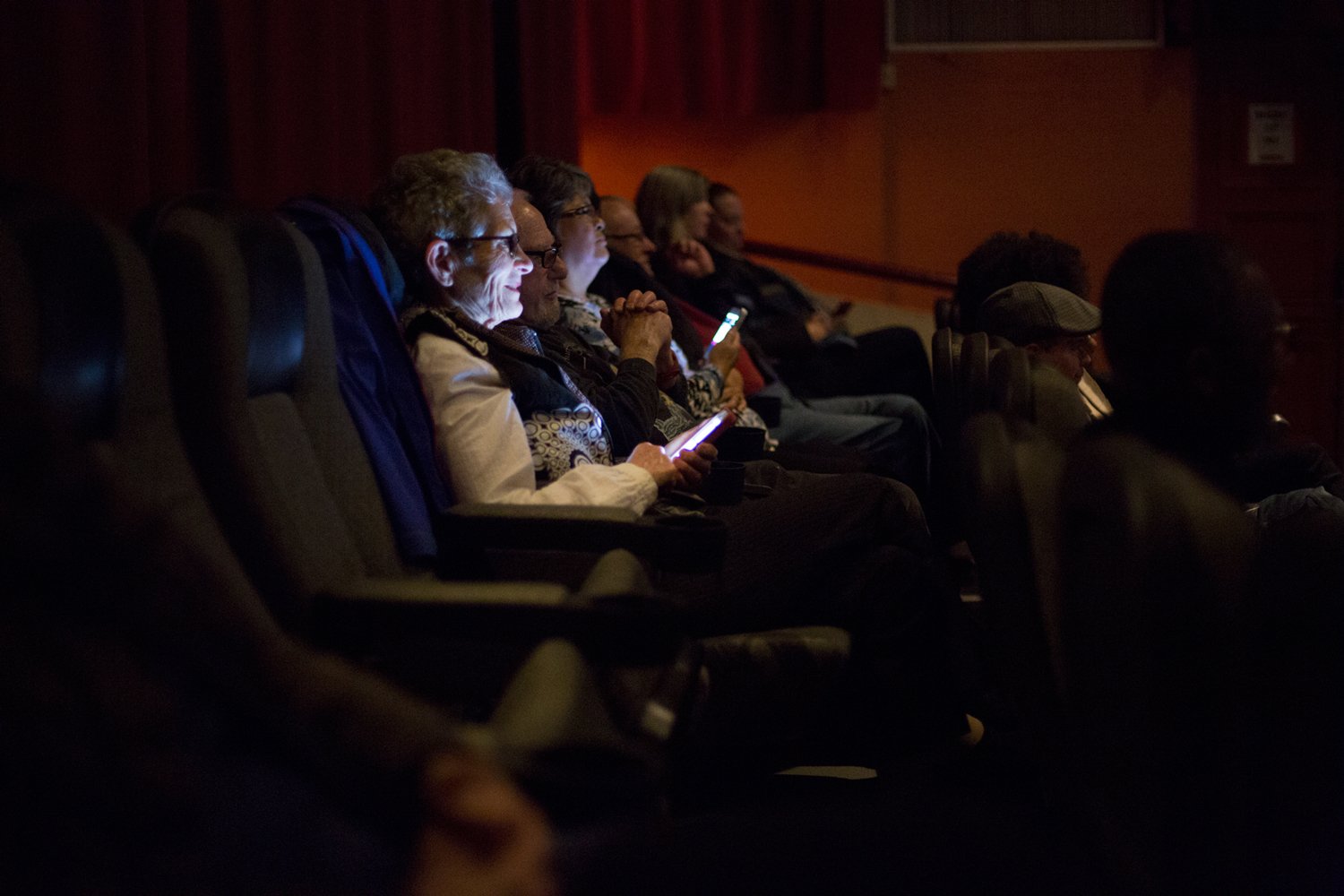 To that end, HARVIS encourages active, in-person community participation. It allows audience members at live events, or an "intentionally invited community" to interact with live media—films, multimedia stories, debates, lectures or presentations. It aims to use community feedback to identify issues, facilitate conversation and, ultimately, empower communities to solve problems.
As Andrew put it in an interview with Ochre, "Hashtags don't create movements. People who care do. So we're starting with those people who care."
HARVIS: A heads-up experience
HARVIS is purposefully simple and deliberately flexible.
A key feature is that anyone with a web-enabled smartphone can use it. According to the Pew Research Internet Project, that's nearly 60 percent of American adults, and the scales tip in favor of minorities and people ages 18 to 29. (Andrew and Laura still face the difficulty of reaching people without access to smartphones. Their current solution is old-fashioned pen and paper, but that might change in the future.) As long as users can swipe up and down on the screen, whether they are using an iPhone or Android makes no difference.
Although simple, the swipe gesture is intentional in a world where media constantly compete with a second screen. "It's a heads-up experience," Andrew says. "We don't want people to look down at their phone and consume content while they're looking at another screen. If that happens, then we failed."
Tailored collaboration
Andrew used HARVIS at TFI Interactive Day to enrich his multimedia presentation. But it can be adopted in an array of settings. A Fourth Act works with its collaborators to tailor HARVIS's features to reach the specific goals of each live media experience.
In their Ochre interview, Andrew and Laura offered the example of their work with Joe Brewster and Michèle Stephenson, the makers of American Promise. The documentary film, spanning 13 years, follows two middle-class African-American families through their challenges in raising and educating their sons. At three screenings in Oregon, HARVIS facilitated audience—that is, community—discussion.
The collaborators intentionally invited diverse groups of people concerned with the same issue: the black male achievement gap. Participants logged in to Harv.is and indicated whether they were parents, students, teachers, administrators or concerned citizens. The facilitators instructed them to swipe up on their smartphones when they felt empowered and to swipe down when they felt overwhelmed.

At chosen moments, Andrew and Laura paused the film and invited the community to share. For instance, in one scene, a student's mother asks if sending her son to private school is helping or hindering his progress. During the pause, participants took three minutes to type in their own stories. After the screenings, the engagement graphic depicted audience reactions, using thumbnails and quotes from the film to give context to the engagement peaks.
When the event was over, HARVIS had created a layered story meaningful to the audience not only because they cared about an issue, but also because they had incorporated their own experiences. HARVIS, or its process, yielded a thoughtful conversation—right then and there.
Co-creating knowledge
The names HARVIS and Harv.is, just as they sound, are rooted in "harvest." Besides the obvious meaning, Laura says, the word is used in the field of group facilitation.
"In fact, our framework in working with communities incorporates many well-established facilitation practices and the core idea of 'harvesting conversations that matter'," she wrote in an email. The name HARVIS is a merger of the words "harvest" and "visualization," pulled from the tagline on the app's home page: "Visualizing the knowledge we harvest from an engaged community."
While HARVIS does fill a market gap in gathering deeper audience insights, Andrew says this function is merely a means to an end. What's really being filled is a process gap. It's not "can you change the content of the film in a real-time way," he says, but "is there a way to think more thoughtfully around what the film is presenting."
I witness the pain of bringing story to life, most of the time a story that they've been keeping inside for too long. It's an intimate and emotional experience, and I feel privileged to be a part of it
To Laura, it's about "convening people, with intentionality around issues, and creating opportunities to find solutions together."
HARVIS is not openly available to the public. Its use is limited to communities gathered by private invitation, through grassroots outreach in which Laura, Andrew and A Fourth Act's collaborators are directly involved. In this way, they ensure they reach the communities they hope to impact with a story.
The Bridge Builder and the Story Midwife
Professionally, Andrew DeVigal describes himself as a "bridge builder." Laura Lo Forti uses the term "story midwife." The digital titles come together in the physical world through HARVIS and A Fourth Act.
"It was all very organic," Laura says, explaining the process of starting their new company.
Andrew and Laura met in a small group of multimedia journalists in the San Francisco Bay Area. "We fell in love through our passion for storytelling," Laura recalls. "When we met, actually, we were on a different spectrum of what storytelling meant."
The difference centered mainly on engagement. Laura followed a grassroots path of participatory journalism and advocacy. For her, story was a medium for people to better understand their own struggles. Andrew, on the other hand, worked in legacy media institutions. He established new ways for audiences to interact with media and gain deeper understanding of a story.

"The heart of my career has consistently evolved around stories, bridge building, interactivity and engagement," Andrew says. As an informational graphic journalist at The Chicago Tribune, he explained complex stories through print and interactive graphics. He trained others in digital and visual storytelling as visiting faculty at the Poynter Institute. At San Francisco State University, he started Interactive Narratives, a hub for interactive stories on the web. Andrew took his approach to The New York Times in 2006. Through interactive media such as Shayla Harris' "Punched Out," he helped bridge print and digital news.
Laura worked as a writer and editor for magazines in her native Italy and became a freelancer when she moved to the U.S. She eventually became uneasy in the journalist's role. She was too emotionally involved, and generally felt that her "subjects," as they were traditionally called, could tell their stories better than she could.
She reached a turning point when she discovered multimedia journalism in the early 2000s. That's when she met Andrew and her partner in The Raw File, Brenda Ann Kenneally. Around the same time she met Joe Lambert, a pioneer in participatory media and founder and director of the Center for Digital Storytelling in Berkeley, CA. Lambert's approach informed her practice as a storytelling facilitator.
Recognizing her divergent approach, Laura adopted new titles, first "recovering journalist," then "participatory media practitioner." She settled on "story midwife" after her pregnancy with Viola.
You see more and more established people leaving their positions and using their skills and knowledge in different fields. It's becoming very acceptable, if not expected, because the industry is changing so fast.
"The stories exist already within each individual. I facilitate the process of expressing them. Technology aside, that happens every time you sit with someone and listen with empathy," Laura says. "I witness the pain of bringing story to life, most of the time a story that they've been keeping inside for too long. It's an intimate and emotional experience, and I feel privileged to be a part of it."
Laura sees stories not simply as news, but as narrative therapy. She believes storytellers can heal themselves. A Fourth Act speaks to this concept of narrative therapy by gathering people around story "not as recipients of information, but as co-creators of knowledge," she says.
In 2012, Andrew left The New York Times and moved with his family to Portland, OR., where he became creative director for content strategy at Second Story. After about a year, Laura noticed that Andrew seemed stuck in his creative work.
"People call me 'trouble-maker,' but I prefer 'idea whisperer,'" she says. "I decided to encourage him to really think about what was missing in his work."
This past February, they entered their professional partnership. The rest, you might say, is the future.
Epilogue: On Creative Risk in a Changing Industry
It all sounds so idealistic. Is community storytelling centered around social issues just another Portlandia Knot Store? Andrew and Laura are taking a risk to follow their passion, but it's not unheard of in today's world. With changes in the industry come changes not only in the stories people create, but also in how storytellers work and define success.
"We don't see careers as a linear, upward trajectory," Laura says. "You see more and more established people leaving their positions and using their skills and knowledge in different fields. It's becoming very acceptable, if not expected, because the industry is changing so fast."
Thinking of success in the traditional way, in Laura's opinion, results in missed opportunities. "When you don't think in those terms you can really innovate. You can experiment and see what happens on the ground."
Despite Laura's optimism, the cold, hard fact is that 90 percent of all technology startups eventually fail—even the ones with success at the start.
But not even trying yields a failure rate of 100 percent. And today's reality makes it a whole lot easier to try.
Digital tools assured Andrew he'd be able to stay in touch with friends and colleagues, and work from anywhere. Leaving a big company and a big city didn't mean leaving opportunity behind.

With this new flexibility came the chance for a lifestyle previous positions didn't afford. Working from home, Laura and Andrew can be creative and still pick up Viola, their 4-year-old daughter, from school. "All of that to me," Andrew says, "is everything that resonates with our mission—our life mission—in terms of not just building community, but building our own community here with our family."
Andrew and Laura recognize this choice as a privilege. "I think we are incredibly fortunate to be able to try to create this type of life and to devote our energy to something we believe in," Laura says. "It's not something everyone can do."
They've put everything on the line—career, reputation, finances, marriage and family—to start a business together, so it seems.
But the real risk they're taking is a creative one. Laura and Andrew can fall back on established skills and colleagues. If HARVIS fails, their creative vision is what suffers.
Although the odds are against them, it is up to the people who can take these risks to take them. This courage is what moves an industry forward.